A couple of runs that might be useful to those using simple single weight setups.....
these are single weight setups of various weights compared to DR Pulley 19gram sliders.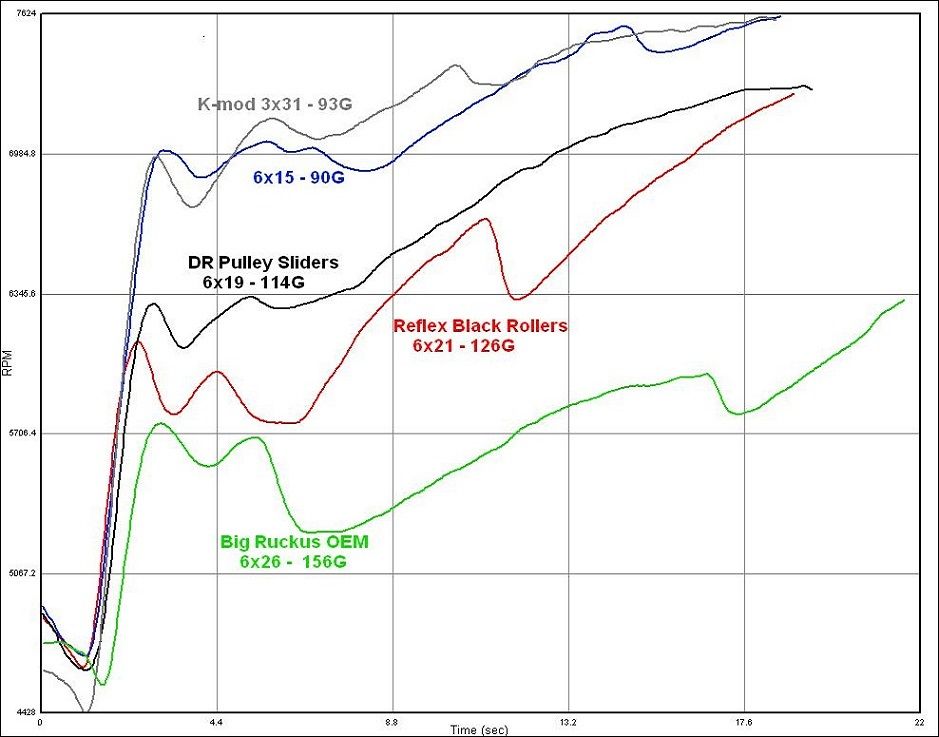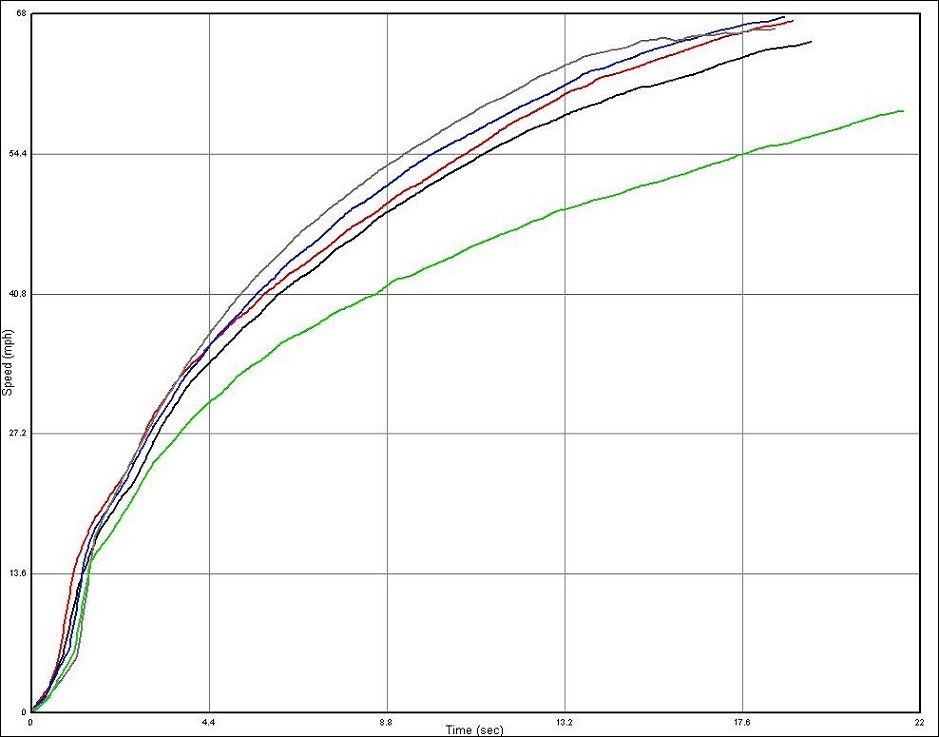 Several things become apparent when you isolate a series of single runs....
1) you can see that the supposedly continuously variable transmission actually produces an almost sawtooth curve showing 3 distinct peaks for almost every roller combination tested. Sliders flatten the peaks so they're less obvious.
2) with the exception of the first two seconds of each run (which is ALL clutches...more on that later), every time you see the acceleration curve turns downward, it means your rollers are moving out TOO FAST and you're losing rpm! In effect you're losing the race by wasting hard won revs.
3) each of these peaks and valleys are of short duration...a couple of seconds each at most, but
every
rpm change, up or down, comes complete with requisite clutch slippage....the clutch pads slip worse during major rpm changes.
4) most of those setups still have one more upshift coming....it usually occurs well after the 1/4 mile run is completed but before redline is reached.
This is true for all but the lightest of weight combinations.
for those tuning for RAW power there is a very simple mod that will almost always gain you a second or two on your 1/4 mile time....
swap out your clutch springs!
In the name of driveabilty Honda has given you a very tame clutch setup....
they don't want Granny to pee her pants when she rolls on the throttle so they use very weak springs that engage at very low rpm.
If you ridden a bike with a standard transmission, you understand....
you can creep away from a stop, or you can rev it a bit and JUMP away from a stop or you can rev it a lot and burn rubber away from a stop.
Well, to a certain extent you can do the same with your scoot (ok, you might not burn a lot of rubber, BUT you can make it jump!)
both Polini and Malossi make spring kits for the Forza's CN-250 style clutch pack.
There are several aftermarket clutches available but these require a lot of experimentation and testing to setup properly.
What I suggest is the yellow middle spring set from the Malossi clutch tuning kit.
There's a white one (lower than stock), a yellow one (125% of stock) and a red one(150% of stock)...actually 3 springs of each weight.
These resist the outward force of the clutch pad flyweights.
here are a few graphs showing just the first 2 seconds of runs comparing stock springs to Malossi yellow springs
stock springs engage at ~4400rpm yellow Malossi springs engage at~4900rpm
by engaging the clutch at higher rpm, there's less loss of revs AND you're still closer the prime power band...
the effects on speed and Gee Force is obvious
remember the color of lines through the various graphs...
they show revs, speed and Gees plotted against time and speed plotted against distance