GeorgeSK wrote:
Gil - your work on this has been absolutely astounding, and I can see why you would now want to resolve this last issue. OTOH, fuel gauges are notorious for inaccuracy anyway - maybe just use the trip odo?

As I said - a stunning bit of work here.
Thanks GeorgeSK,

.
I had to give it a try at least.

I always fill up my vehicles when the low fuel warning shows up on the dash. It's just a habit.
Today I rode with some Grom riders in San Jose, CA for about 200 miles, including the distance there and back home. I can now say that the fuel gauge is working properly. I had less than half a tank left when I left my home and didn't fill up until 15 miles after the last bar on the fuel gauge stated flashing. I filled up 2.138 Gallons into my gas tank. Disclaimer, I fill my tank to the rim of the filler neck. I'm satisfied with how the fuel gauge meters the fuel level and now I know that when I have four bars left on the fuel gauge, I have used one gallon of gasoline. Can't get better than that.
Attachment: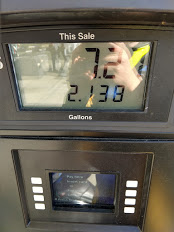 IMG_20180127_110829497_HDR.jpg [ 13.35 KiB | Viewed 150 times ]
Gil