Hello, back in April 2012, I rode my Honda PCX125 across the US, as part of the Scooter Cannonball Run (Savannah, GA to San Diego, CA) then rode back home to the east coast (Washington DC). Altogether I rode over 7,000 miles, crossing 21 states in 21 days, averaging about 300 miles per day.

I am happy to share my experiences with you, and describe the trips and tricks I used to turn this scooter into a serious long-distance touring machine.

Although still in the process of writing up this trip (yeah, I know..) I just wanted to say the PCX125 performed FLAWLESSLY! That's including crossing the Continental Divide (twice), 100+ degree deserts, rain, and even patches of snow. Other than regular maintenance (changing the oil, and slapping on a new rear tire halfway through) this bike had ZERO issues, and continues to perform reliably every day. (Current odometer reads 17,234 miles.)

Cruising around 50-55mph when possible (climbing the Rocky Mountains dropped my mph to 25 in places) I managed to average a little less 90mpg for the entire trip. I carried a spare gallon of fuel under the seat, but never once had to use it. I also carried all my cargo for the entire trip (fuel, water, rain gear, tools, food, maps, clothes, GPS, laptop, cameras, books) and somehow made it all fit in a GIvi topcase and the Kuryakyn 4141 tour bag.

There are various little mods I made to bike, which I will document and write up shortly.
Attachments: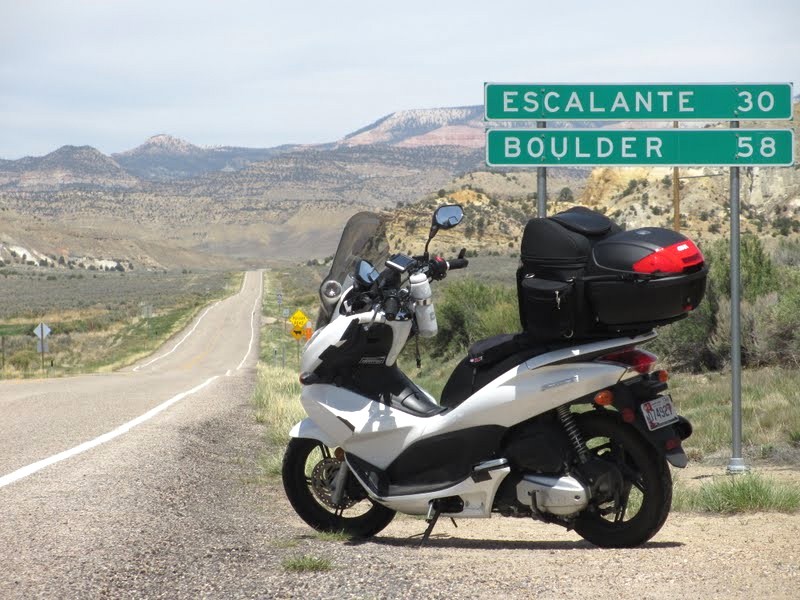 IMG_2033.JPG [ 132.22 KiB | Viewed 4213 times ]