Despite all logic given the weather last weekend in Georgia, me and one of my best friends (awesome dude named Freeman) went down to Cocoa Beach, FL for the
Cocoa Beach Scooter Rally
.
Attachment: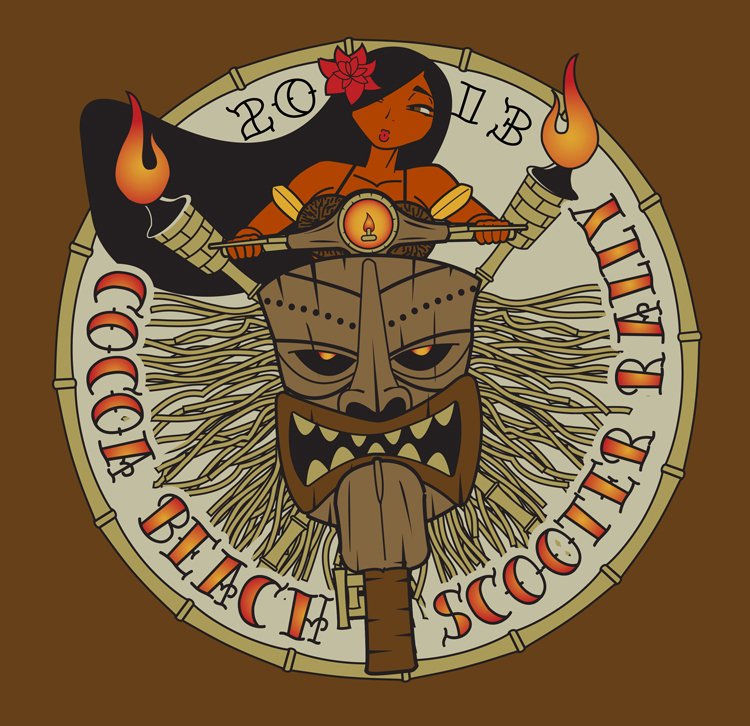 CBlogofinal.jpg [ 430.95 KiB | Viewed 4600 times ]
As usual with my trips, Maddie, my dog, came with me. We took the
Silverwing
this trip, which was vital given most of the ~1100 mile round-trip was highway miles. The plan was to camp out, so I gathered all my gear and packed up the bike:
Attachment: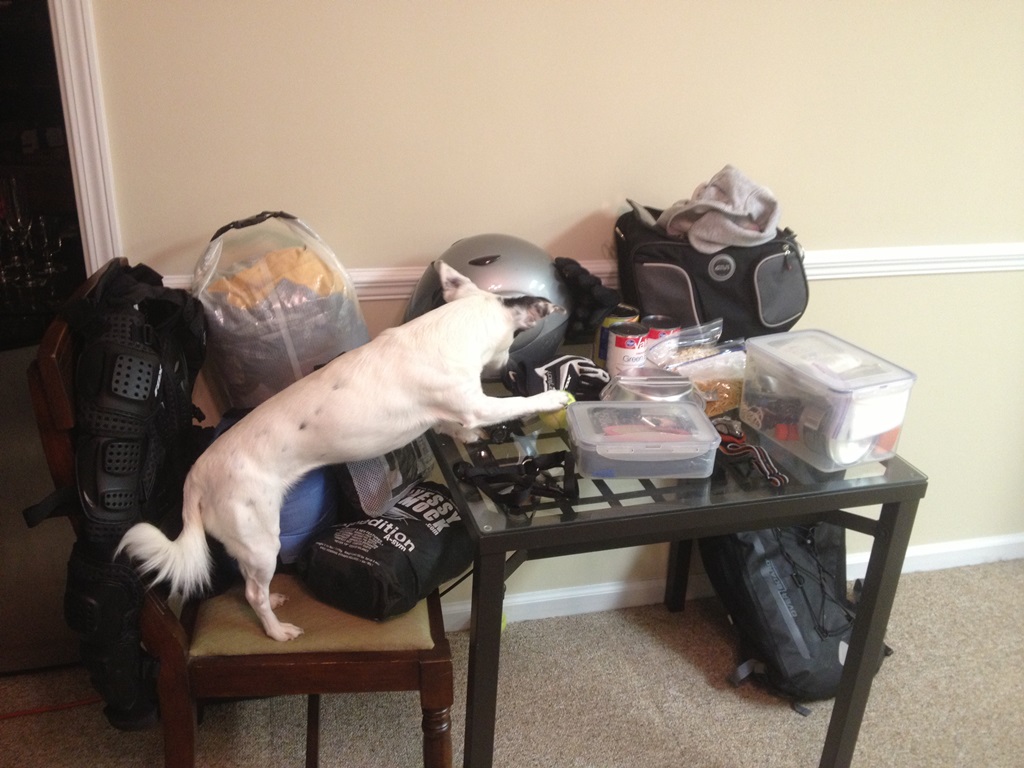 IMG_01.JPG [ 207.76 KiB | Viewed 4600 times ]
I packed my usual gear for a motorcycle camping, but with extra gear due to it being cold and the anticipation of rain (more on both camping and rain in a bit). With what I packed, I could almost have lived perpetually off of the motorcycle. Anyways, that includes:
- Hennesey Hammock
- Sleeping Bag
- Mess kit (stove, fuel, dry food, utensils, dish kit)
- First aid kit
- Tool kit (too much to list, all fits in the tiny container next to the dog's paw in the pic)
- Sunblock
- 5 days of clothes in a waterproof roll-top bag, extra shoes, summer gloves for FL
- two towels
- dog
- dog stuff (ball, poop bags, harness, leash, doggie jacket)
- Rain suit
- Armored jacket, winter gloves, winter jacket to keep the cold out
- Spare backpack to pack winter gear in when we hit sane riding weather
- Helmet
- Phone / charger
- Laptop (Dell XPS14), mouse, charger
- Walther PPS
- Water bottle
Almost all that went under the seat. The tool kit, mess kit, and first aid kit went in the tunnel bag, and the roll-top bag was strapped to the passenger seat.
My buddy Freeman met me at work Friday afternoon, here's my Silverwing next to his Bandit:
Attachment: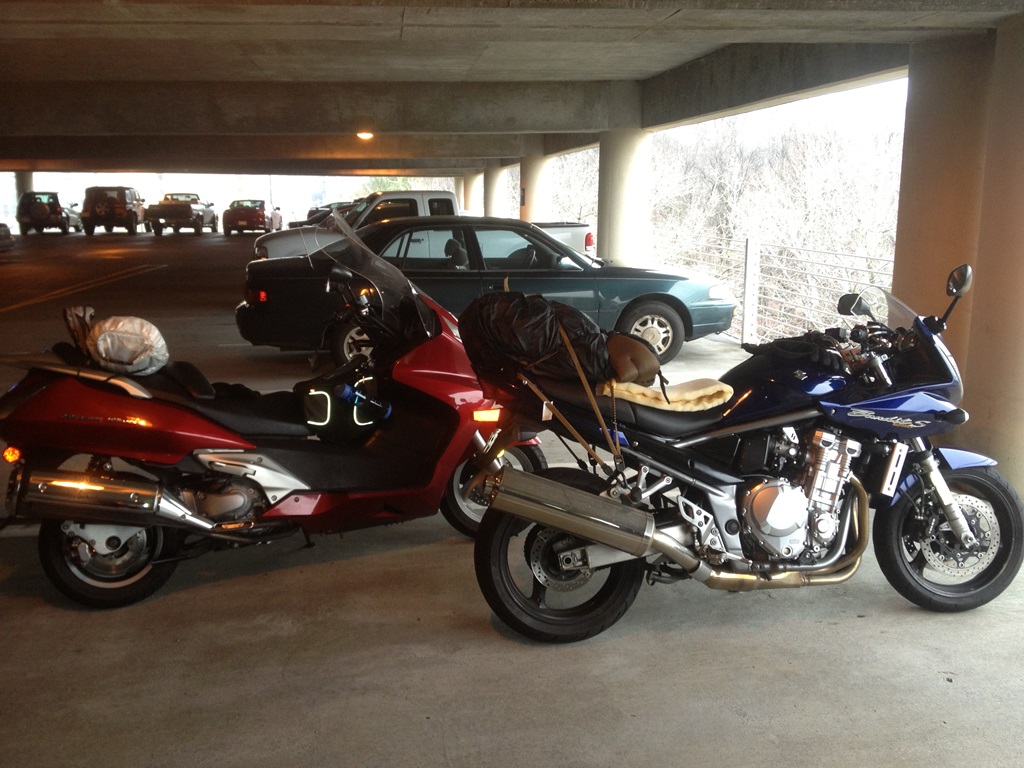 IMG_02.JPG [ 253.36 KiB | Viewed 4600 times ]
And so the 3 of us left, heading southbound down Interstate 75 towards Florida. Sadly, the Cocoa Beach Tiki gods did NOT smile upon us. Just South of Macon, GA we hit MASSIVE amounts of rain. We had anticipated rain (the forecast was 100% chance of rain, with a chance of "wintery mix." I interpreted this as "bring your raingear and your testicles, you'll need them."
We stopped at McNasty (McDonalds for those of you who actually enjoy that shit) for a brief reprieve, and were told how awesome it is that our dog rides with us. I also learned that it's REALLY hard to take a piss when you have a dog in the front of your jacket.
FUCK THE RAIN GODS!
Attachment: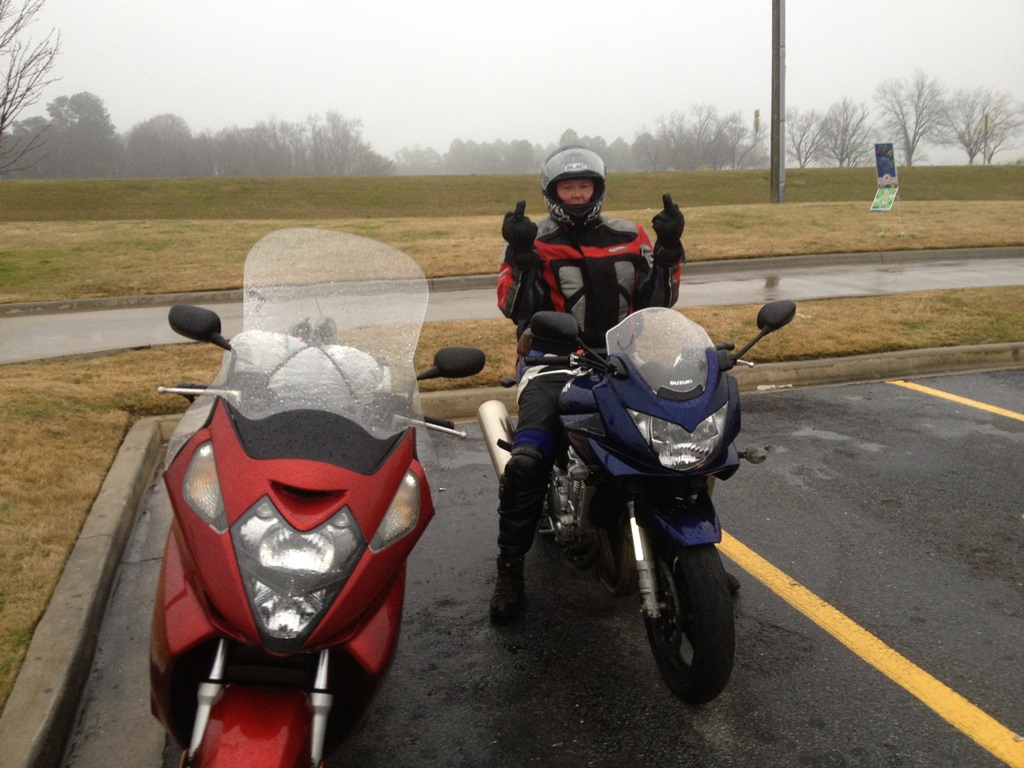 IMG_03.JPG [ 240.66 KiB | Viewed 4600 times ]
We had to carry on, so we powered on through the muck. I didn't want the dog to get even more wet as the storm intensified, so I zipped her into my jacket. She didn't like that much, she prefers to ride shotgun on the tunnel bag... Regardless, she soon fell asleep, and things were wet, cold, and miserable for the next 6 hours. At least I had 15lbs of terrier keeping my front warm, I'm not sure how Freeman was able to stay warm. The massive 1250cc engine between his legs probably helped.
Temperatures slowly rose from 42 degrees F to around 70F as we rode Southbound. The rain was relentless, pounding us constantly. Freeman's leathers failed spectacularly, and he was soaked to the bone. I was fortunate enough to only have leaky gloves, and stayed almost entirely dry. It helped that I had a massive wall of plastic in front of me, fairings are wonderful!

After two more stops for gas, we finally were in Lake City, FL. We had ridden out of the storm, and stopped for gas and to have Subway for dinner. Freeman's leathers weighed at least 50lbs from all the water they soaked up, and the dog smelled like wet dog. Luckily, I brought towels. We dried off, had food, and the dog took a massive dook behind the dumpsters. Seriously, it was epic, she must have been holding it in for days.
Getting dry:
Attachment:
IMG_04.JPG [ 285.82 KiB | Viewed 4600 times ]
I left the pup out of the jacket and she rode shotgun on the tunnel bag again, she was quite excited about that. We blasted on Southbound, eager to let the engines rev up now that we were warm and (mostly) dry. The miles flew by, and we finally threw in the towel just before midnight in Orlando, FL. The rain had delayed us over 3 hours, and we were too tired to make it to the campsite. Freeman whipped out his phone and started looking for a hotel:
Attachment: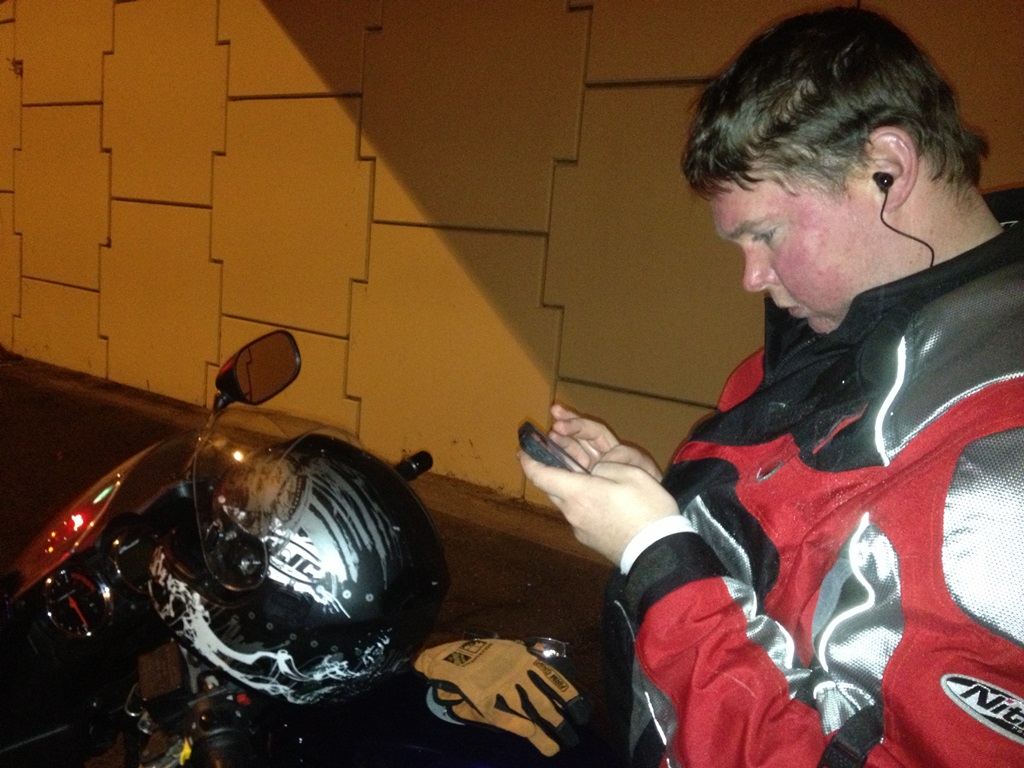 IMG_05.JPG [ 253.79 KiB | Viewed 4600 times ]
We stayed at some shitty hotel, if I remembered what it was called, I'd warn you about it. It was bullshit -- we looked up the fuckers on hotels.com, called the hotel and said hotels.com said their rooms were $xx.xx per night, they said oh yeah, we'll do lower than that, so we went to the hotel, arriving at 12:30pm. The fuckwads at the front desk said since it was after midnight, they knew we couldn't book on hotels.com, and since everywhere was sold out from the Daytona500 (GOD DAMN YOU NASCAR), we would have to pay their FULL, holiday rate. So, we paid about twice what we would have had to at hotels.com, and slept. Fuckwads.
We woke up at 8am the next day, barely avoided getting yelled at about having a dog in the room (we may or may not have omitted that detail at the counter), packed the bikes, and got ready to hit the road. I packed all my winter gear into the camo backpack on the top of my luggage, because it was a balmy 72, and we were on the road before 9am.
Attachment: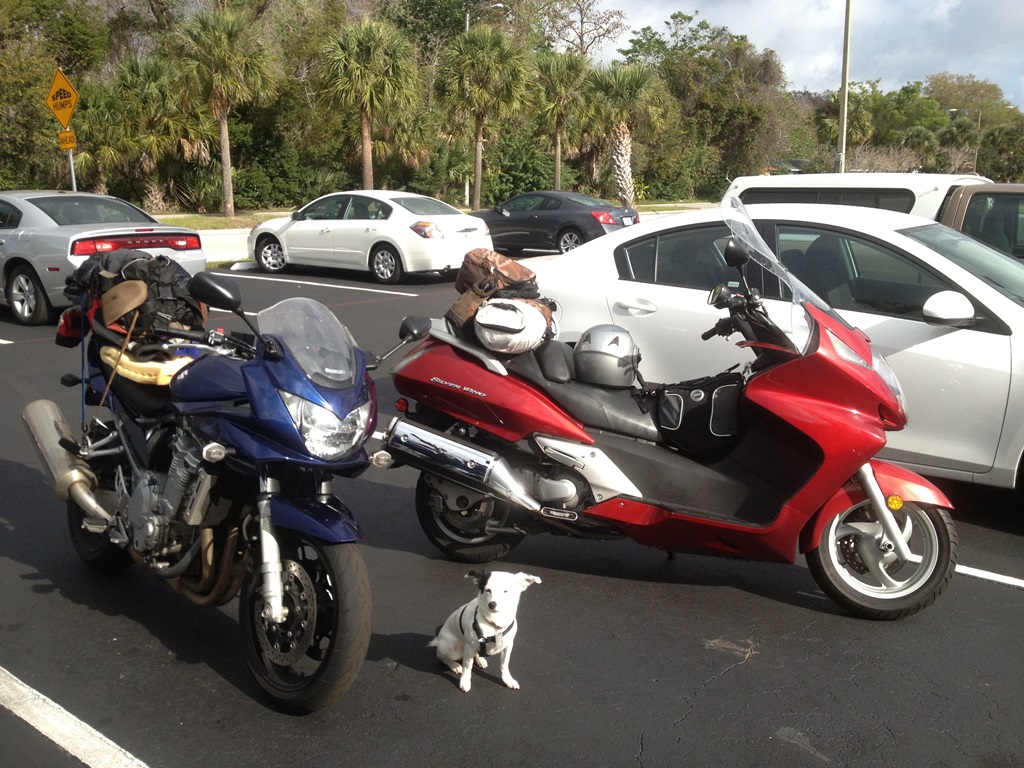 IMG_06.JPG [ 321.9 KiB | Viewed 4600 times ]
The roads in Florida were nice, wide, and smooth. The dog was having a blast riding tunnel bag, SO MANY NEW SMELLS! I don't think her nose ever stopped moving.
I should note here that it's REALLY hard to get a good picture of the dog riding while I'm riding. Anyways, I attempted to get one:
Attachment: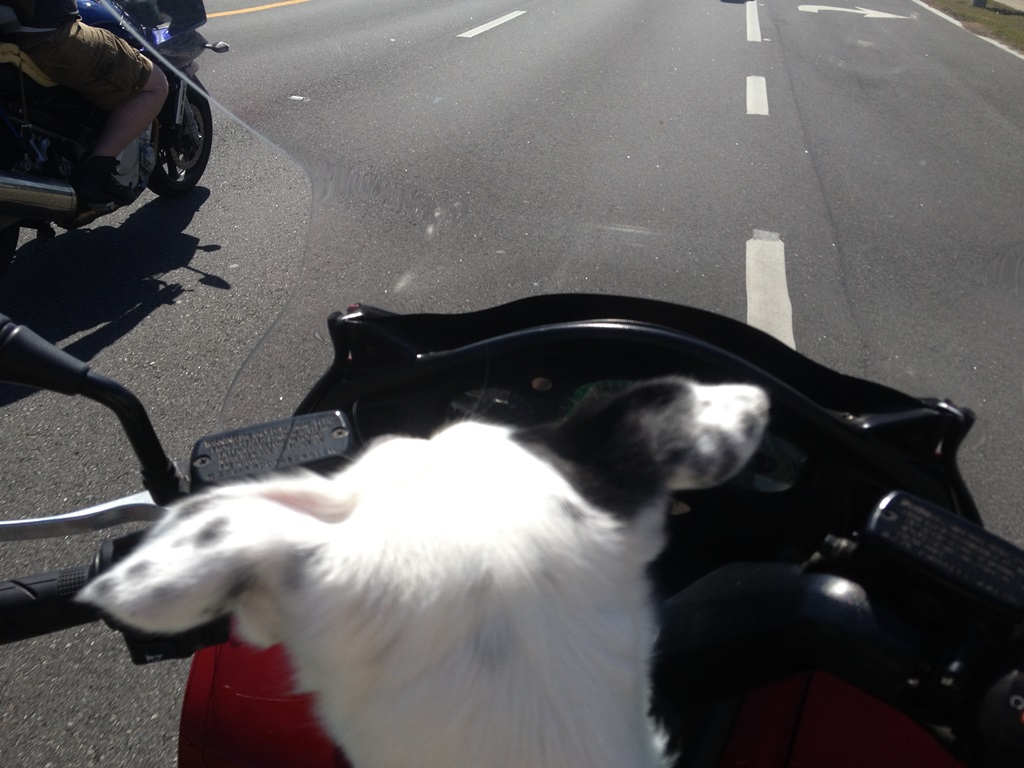 IMG_09.JPG [ 211.97 KiB | Viewed 4600 times ]
On we rode, rolling into the rally just in time for the noon ride. We knew it would be a good time when we saw this sign (not my picture, got it from the
facebook page
):
Attachment: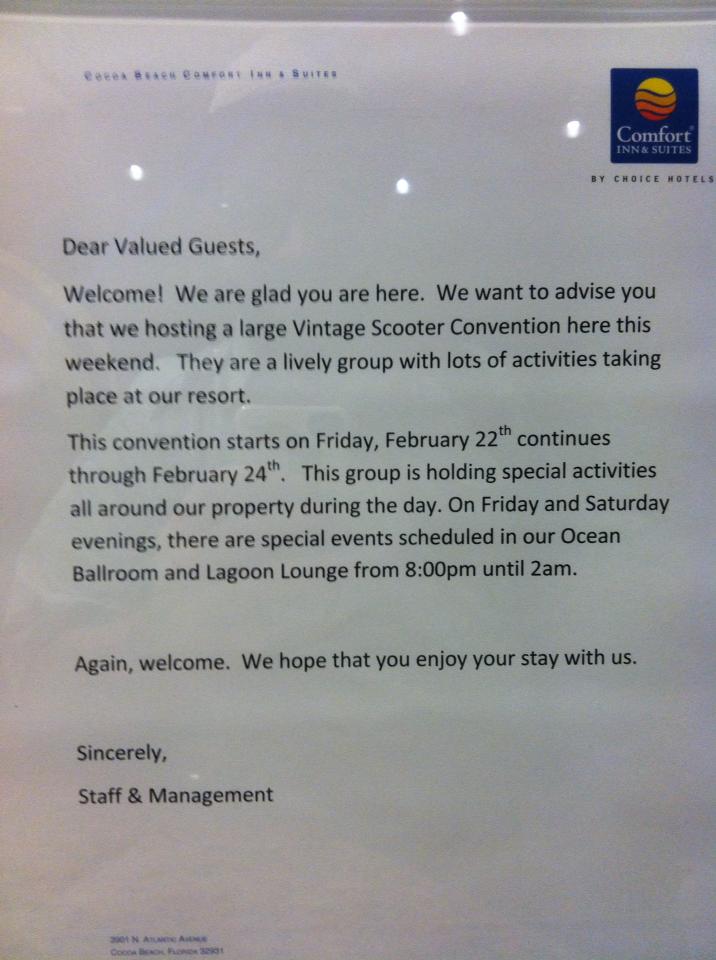 signage.jpg [ 65.75 KiB | Viewed 4600 times ]
Alex (
Itsahonda
) had ridden his Burgman 650 over, and we met up with him briefly, registered, then went riding with the group.
Here's the route:
Attachment: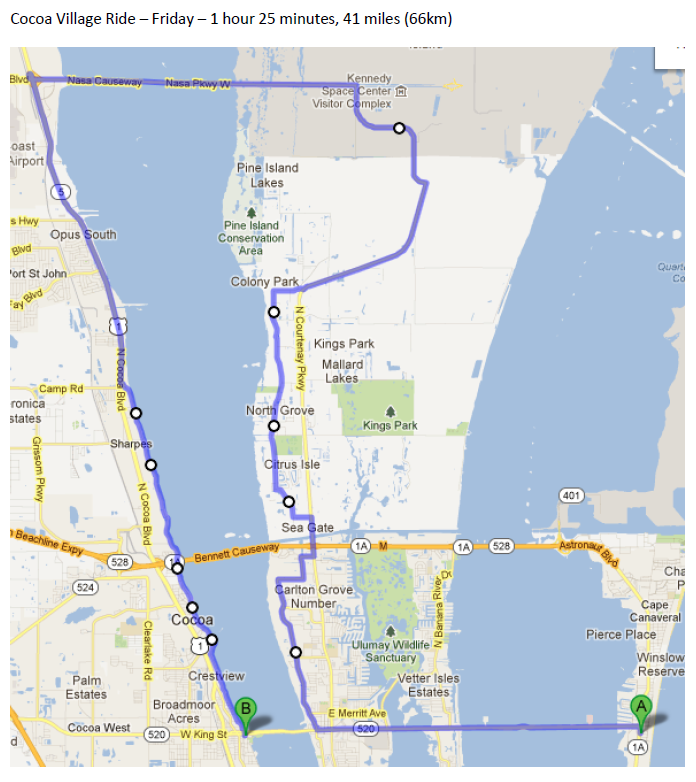 ride.png [ 320.57 KiB | Viewed 4600 times ]
There were a few Burgmans, a bunch of Buddys, 4 PCX's (YAY!), a Ruckus and a Big Ruckus, a few Chinese scooters, a couple of Cushmans, and a whole bunch of Vespas and Lambrettas (the norm for a scooter rally). There were some WICKED looking vintage scooters, I wish I would have gotten a better pic of this guy:
Attachment: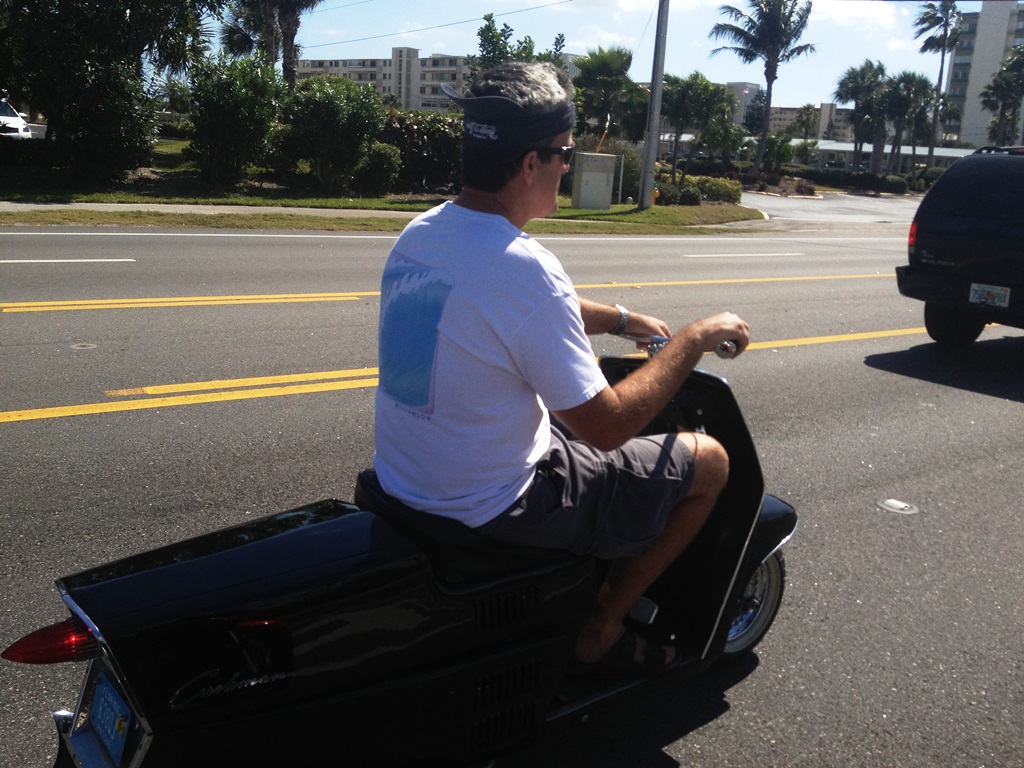 IMG_11.JPG [ 283.32 KiB | Viewed 4600 times ]
Lotsa scooters:
Attachment: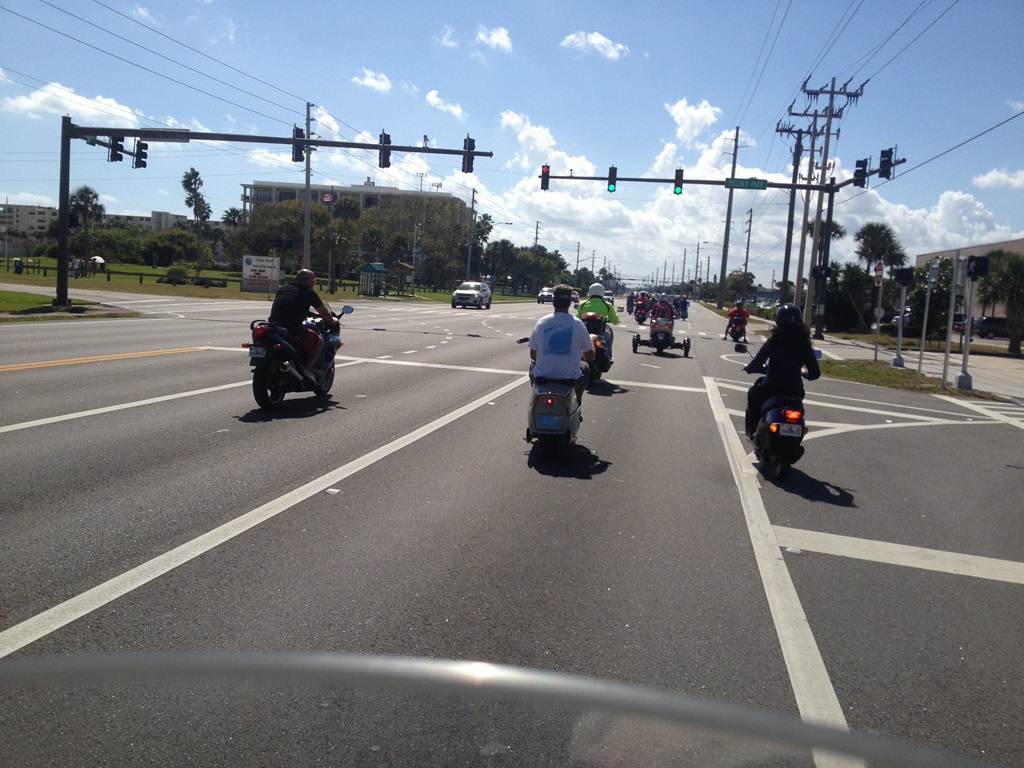 IMG_10.JPG [ 291.53 KiB | Viewed 4600 times ]
We were going to stop at the beach for a moment, but it was so crowded and such a clusterfuck that most of the ride kept going.
Attachment:
IMG_12.JPG [ 261.47 KiB | Viewed 4600 times ]
We took a turn-off onto a beautiful road, nice palm trees, and an excellent view:
Attachment: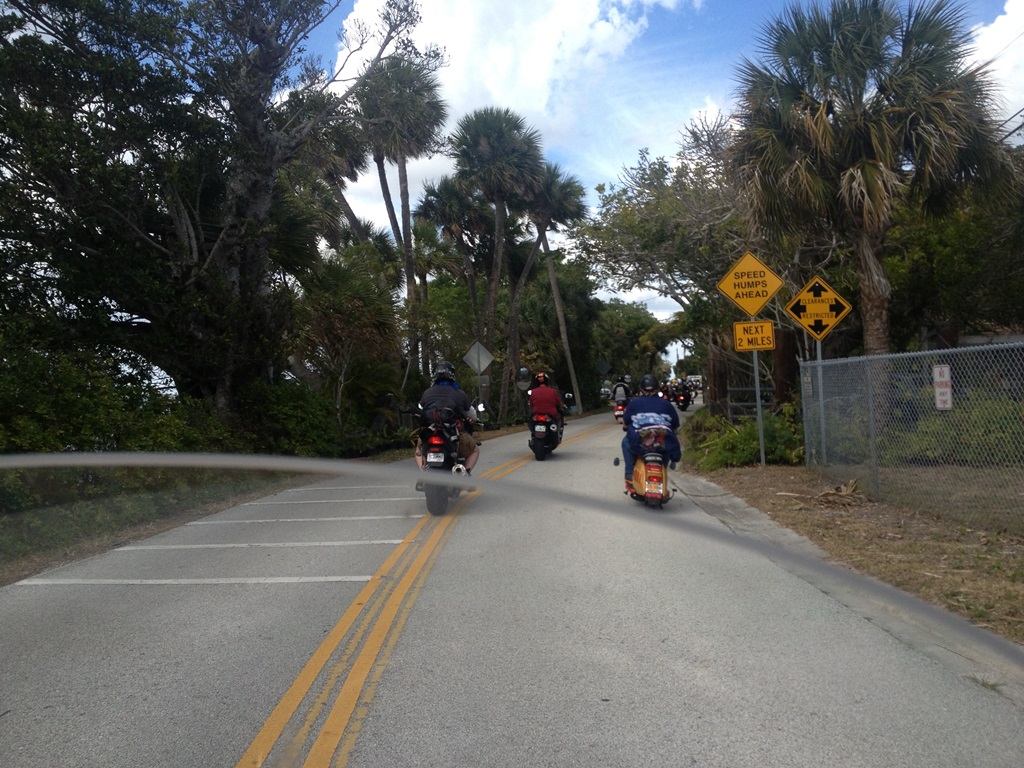 IMG_14.JPG [ 341.1 KiB | Viewed 4600 times ]
Attachment:
IMG_15.JPG [ 343.89 KiB | Viewed 4600 times ]
Attachment: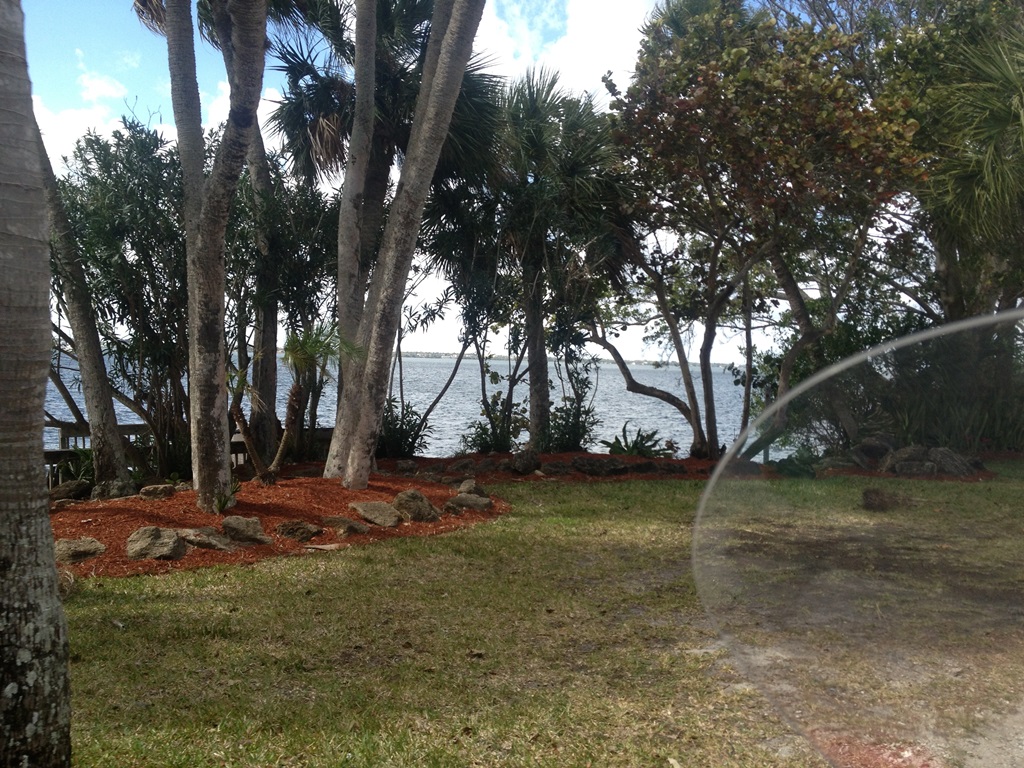 IMG_16.JPG [ 407.61 KiB | Viewed 4600 times ]
Attachment: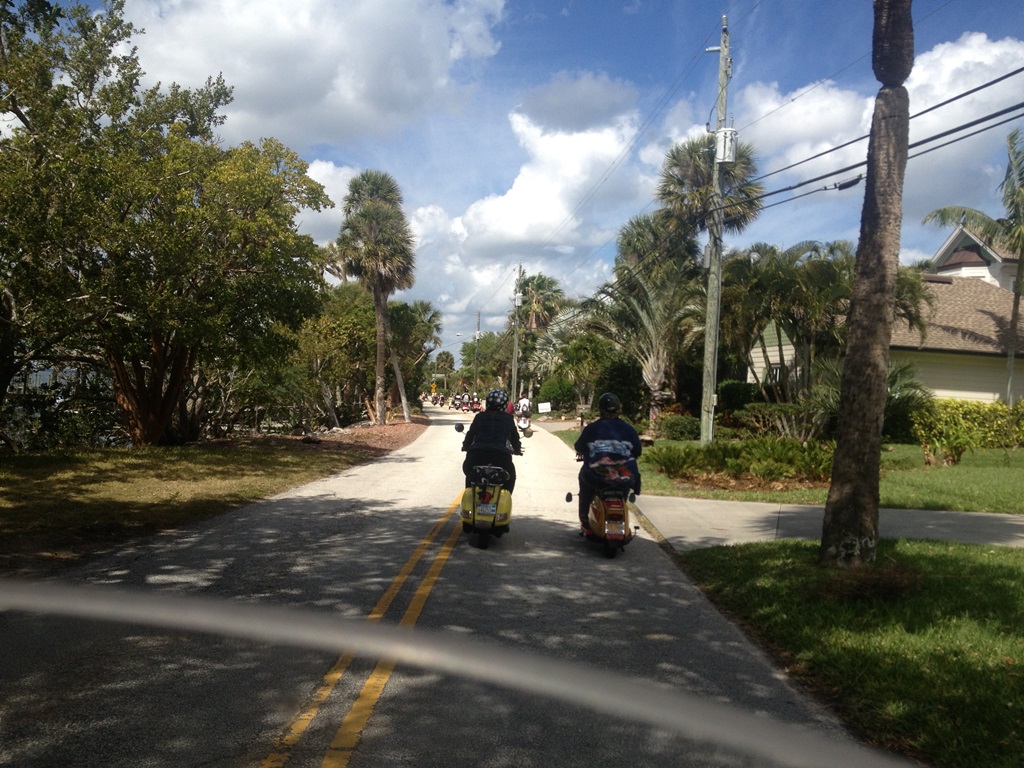 IMG_17.JPG [ 325.87 KiB | Viewed 4600 times ]
The ride stopped for a moment, and a bunch of folks went to get dinner. Freeman needed a new tire, so he split off to find one, and so I went to go set up camp.
We had planned on staying at Jetty Park, so we called ahead and asked for a reservation way back in November. Since our original intention was to stay Friday and Saturday, we wanted to make sure everything was legit, so we told them we'd have two tents, two guys, two bikes, and one dog. They said all was kosher, that'll be ~$25 now, ~$25 on check-in. We arrived and the gentleman at the front gate wouldn't even let me in with a dog. "The only way you can bring a dog in here is in an RV." What the actual fuck? No refund, no nothing. At least the guy at the gate was nice -- he said it was something to do with City of Cape Canaveral requirements. There were kids around, and I wasn't about to let a setback ruin my trip, so I bailed. I would have taken a pic of me flicking off the Jetty Park sign, but like I said, kids were around, so the city sign will have to do. F IT!
Attachment: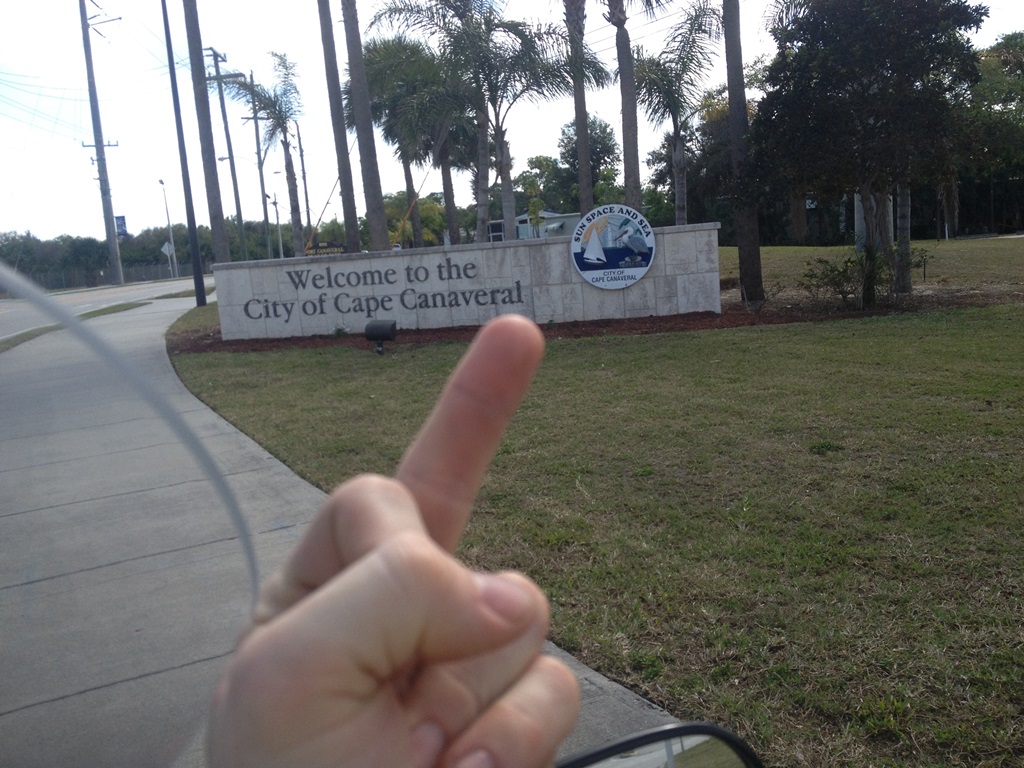 IMG_18.JPG [ 286.22 KiB | Viewed 4600 times ]
I rode back to the rally, frustrated as hell. After calling a few hotels with no luck, I was wondering if I was going to have to sleep on the ground behind somewhere (which isn't that big a deal for me, but it
is
illegal, so I'd rather not).
Luckily, one of the
Terminals
(particularly, Holly (I apologize again for forgetting your name if you're reading this, I didn't recognize you with the sunglasses)) recommended we stay at
Motel 6
. It was cheaper than the dumpster/hotel than we stayed in at Orlando and way nicer, so we ended up staying there. The front desk attendants were awesome, the rate was cheap, and the room had beds, but no cockroaches. I highly recommend them if you're looking for a cheap motel, and have standards that consist of "better than sleeping on a park bench."
With my accomodations sorted, I was finally free to relax and enjoy the rally. Here's the scooter lineup Saturday afternoon:
Attachment: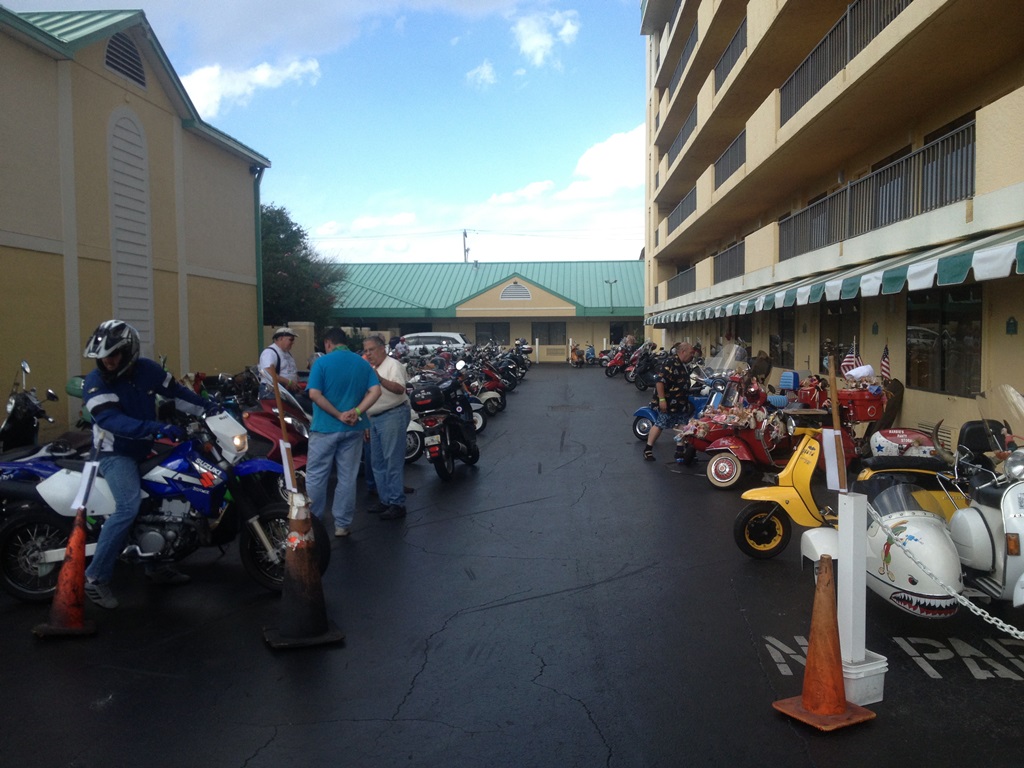 IMG_20.JPG [ 239.75 KiB | Viewed 4600 times ]
And I took LOTS of pictures of scooters:
Attachment: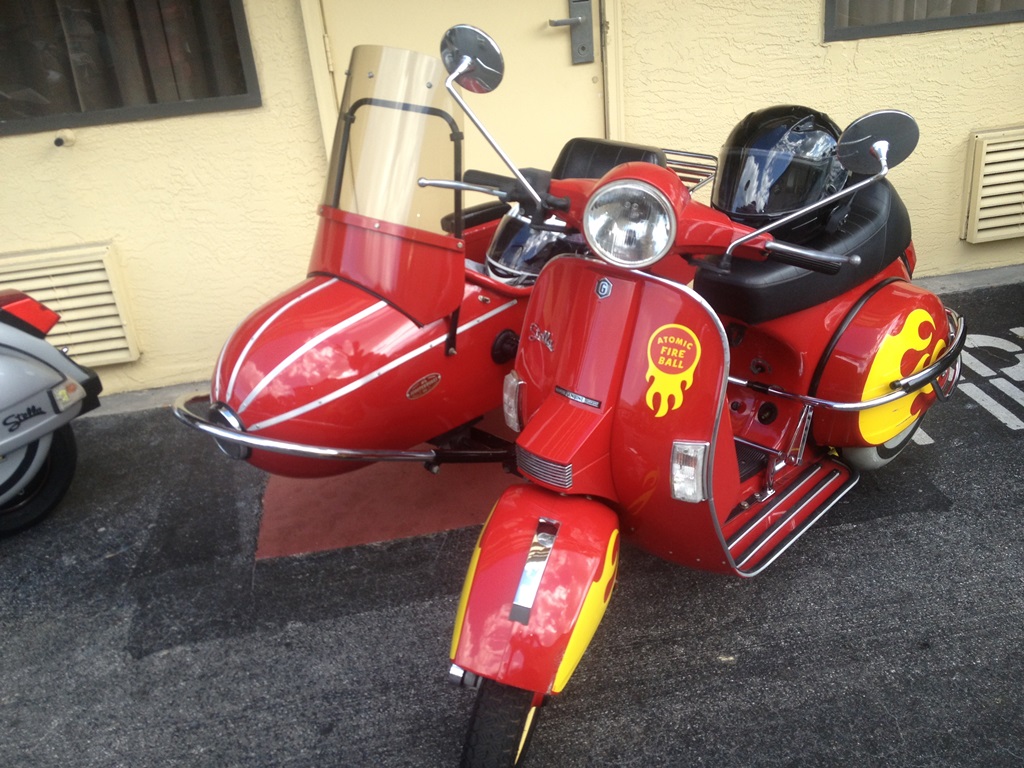 IMG_19.JPG [ 293.81 KiB | Viewed 4600 times ]
Attachment:
IMG_21.JPG [ 253.92 KiB | Viewed 4600 times ]
Attachment: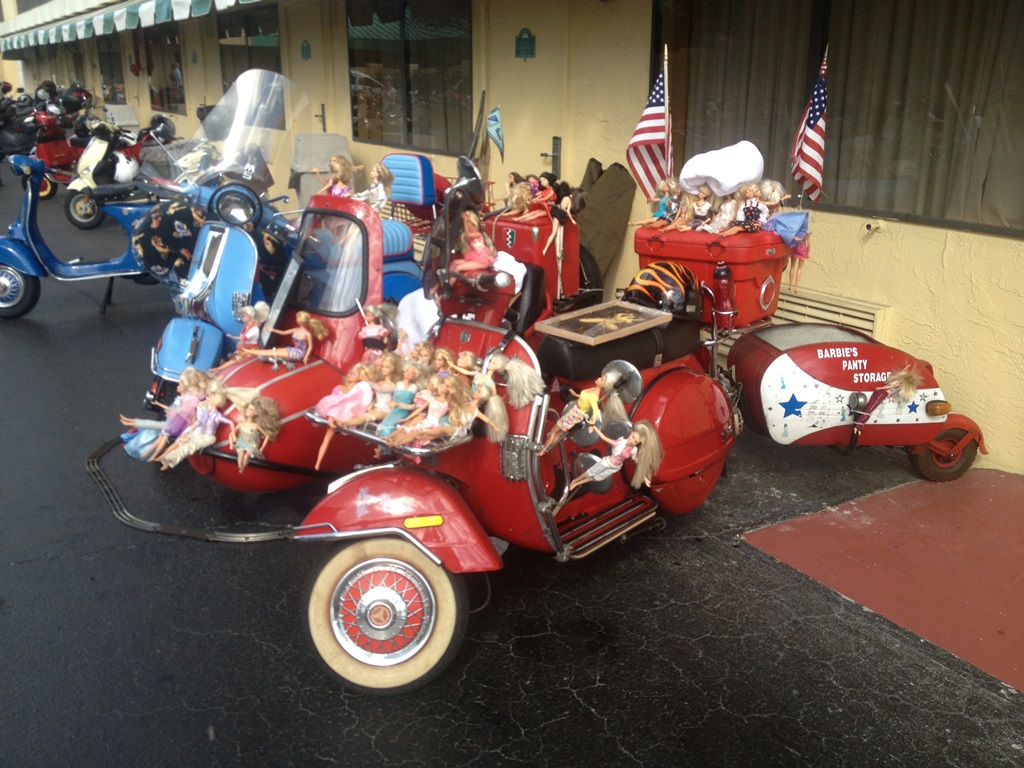 IMG_22.JPG [ 284.1 KiB | Viewed 4600 times ]
Attachment: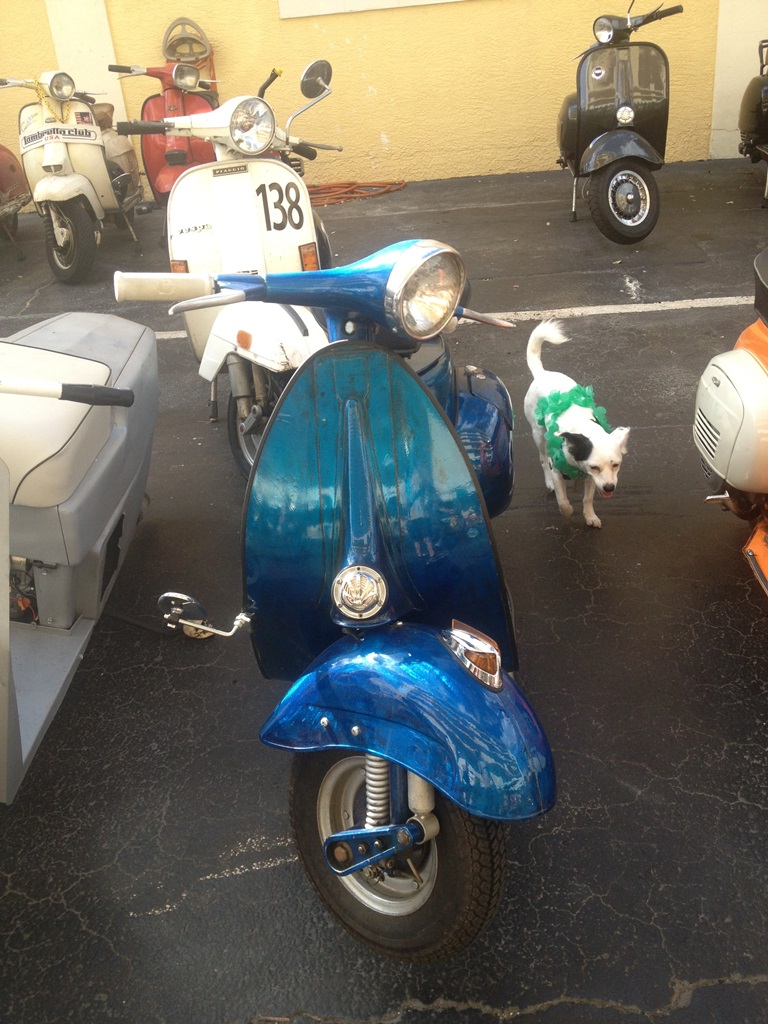 IMG_24.JPG [ 286.36 KiB | Viewed 4600 times ]
Yes! PCXes! I forget y'all's names (I am horrendous with names), but it was nice talking to you! If you ever get bored, feel free to join the forum!

Attachment: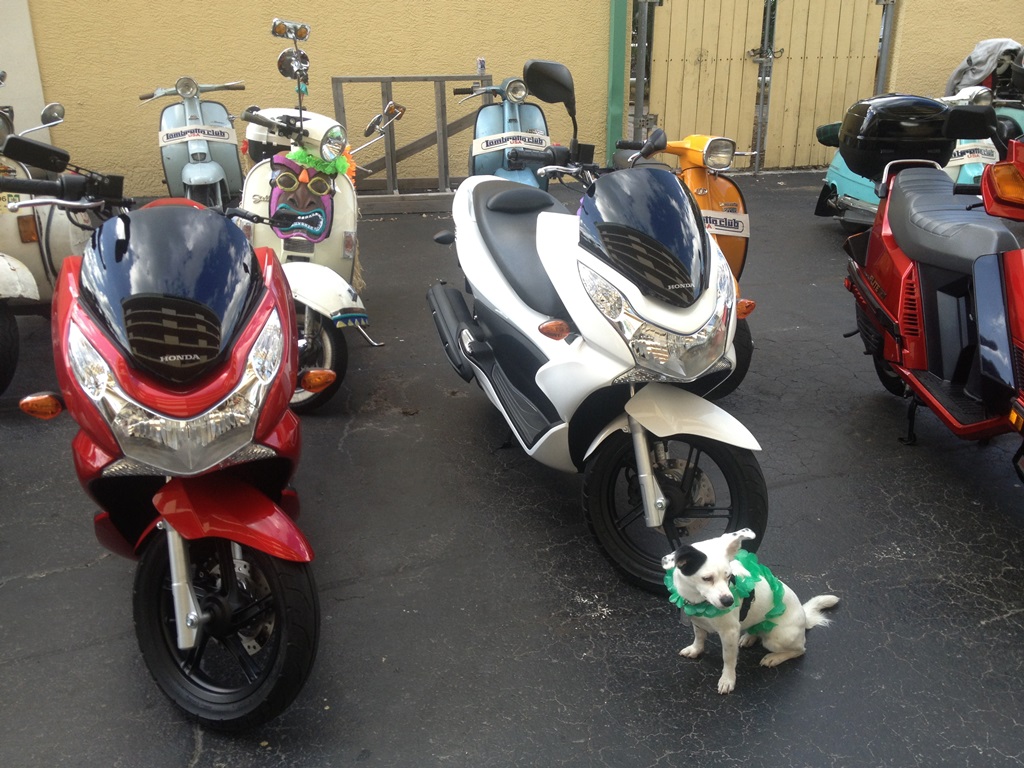 IMG_25.JPG [ 292.82 KiB | Viewed 4600 times ]
Attachment: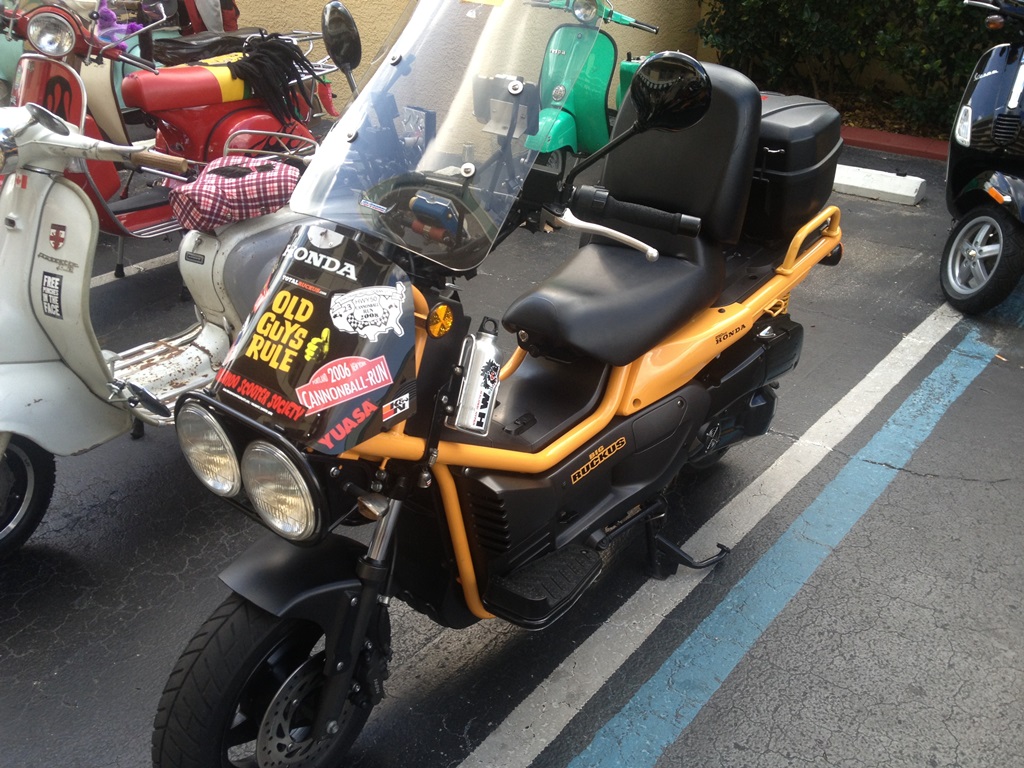 IMG_26.JPG [ 315.56 KiB | Viewed 4600 times ]
Attachment:
IMG_27.JPG [ 269.88 KiB | Viewed 4600 times ]
Attachment:
IMG_28.JPG [ 308.68 KiB | Viewed 4600 times ]
Attachment: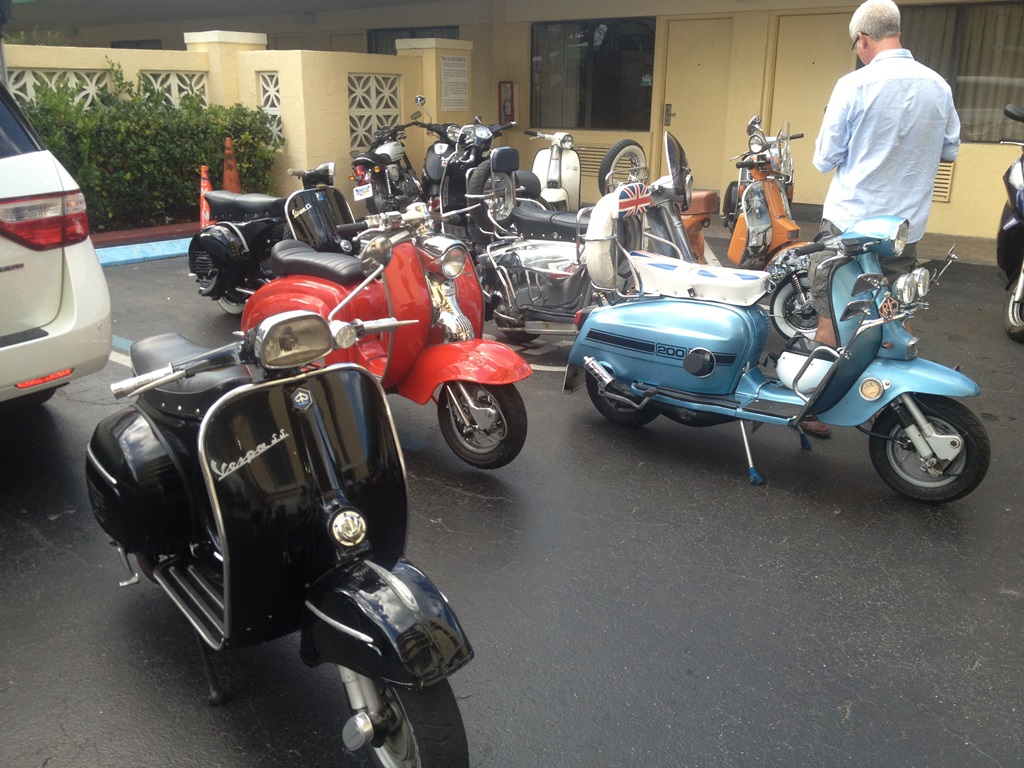 IMG_29.JPG [ 293.02 KiB | Viewed 4600 times ]
Attachment: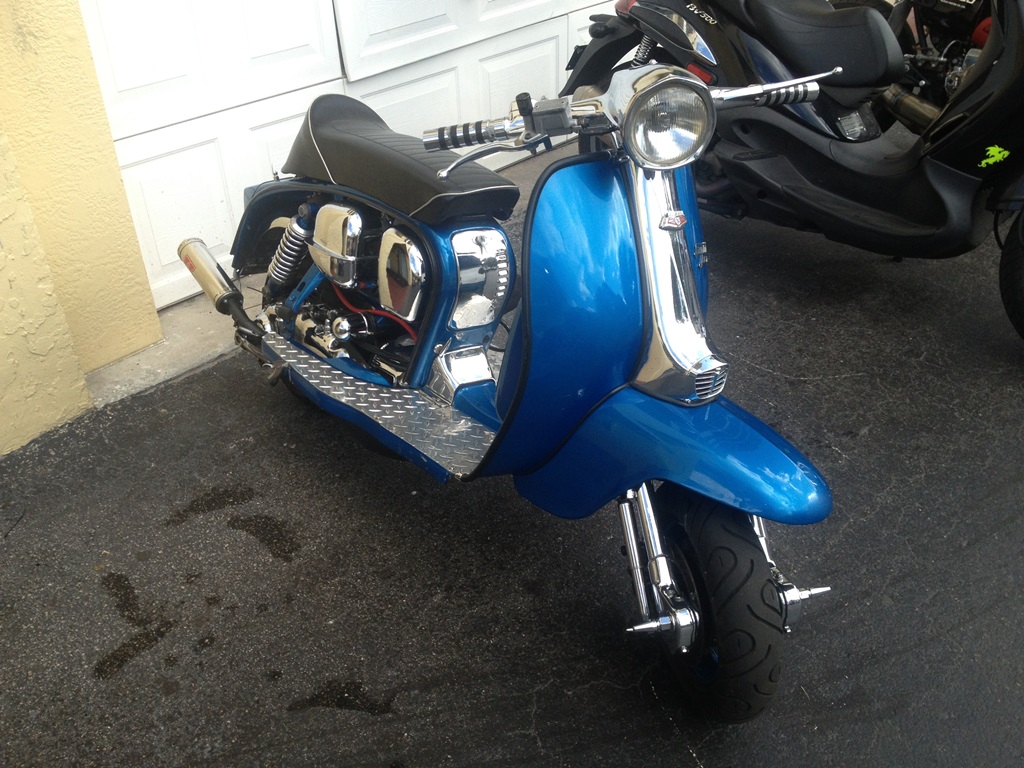 IMG_31.JPG [ 295 KiB | Viewed 4600 times ]
Attachment: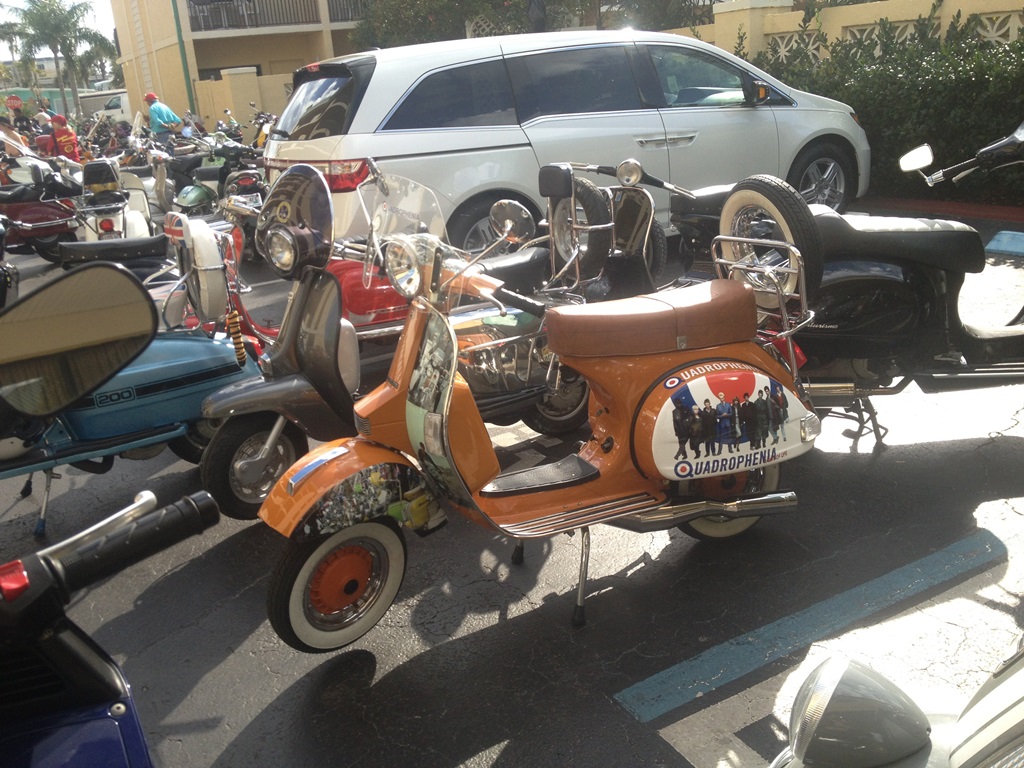 IMG_34.JPG [ 302.38 KiB | Viewed 4600 times ]
Attachment: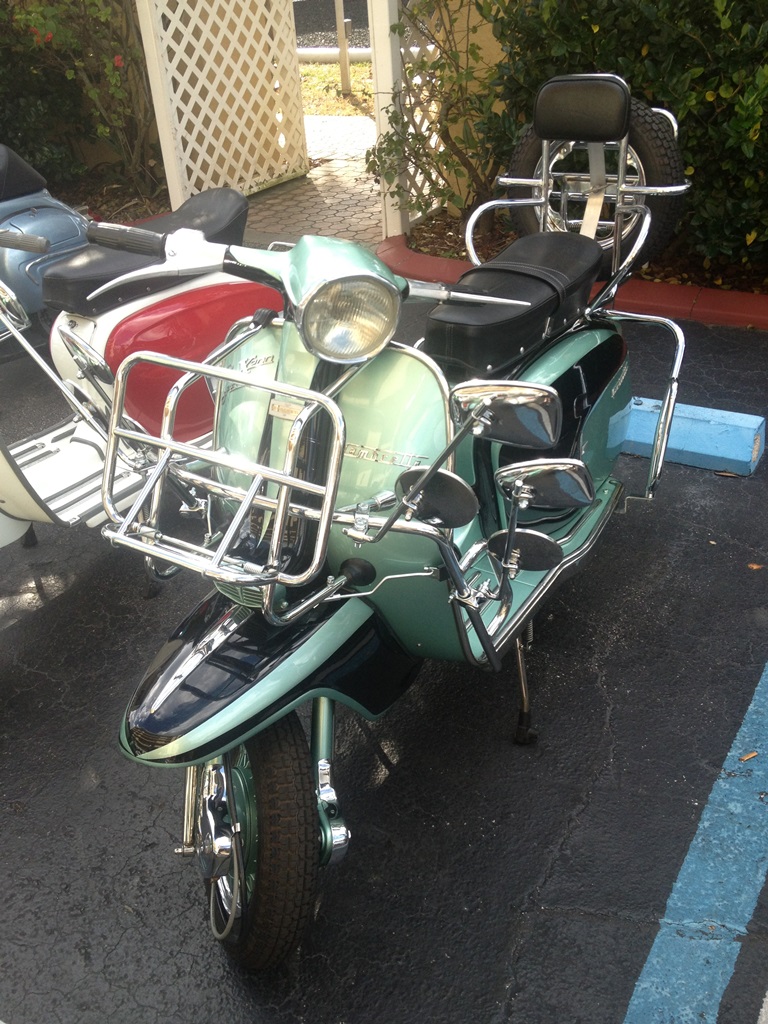 IMG_37.JPG [ 328.59 KiB | Viewed 4600 times ]
Oh man, I think this Lambretta was my favorite. Beautiful bike:
Attachment: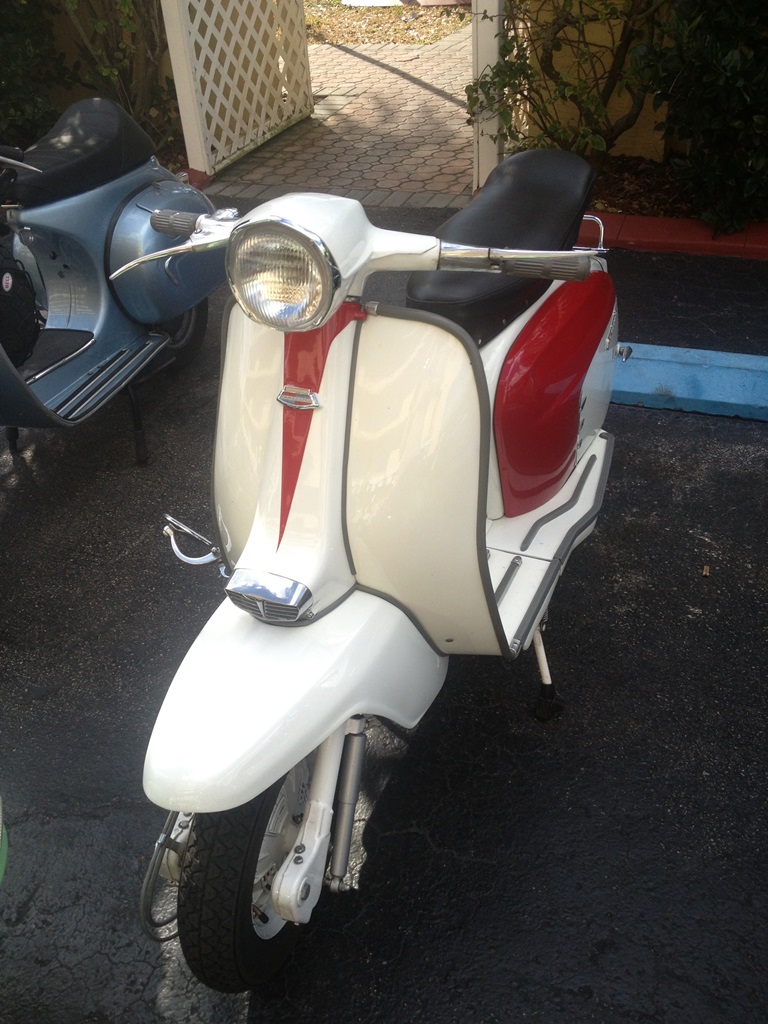 IMG_38.JPG [ 267.85 KiB | Viewed 4600 times ]
Attachment: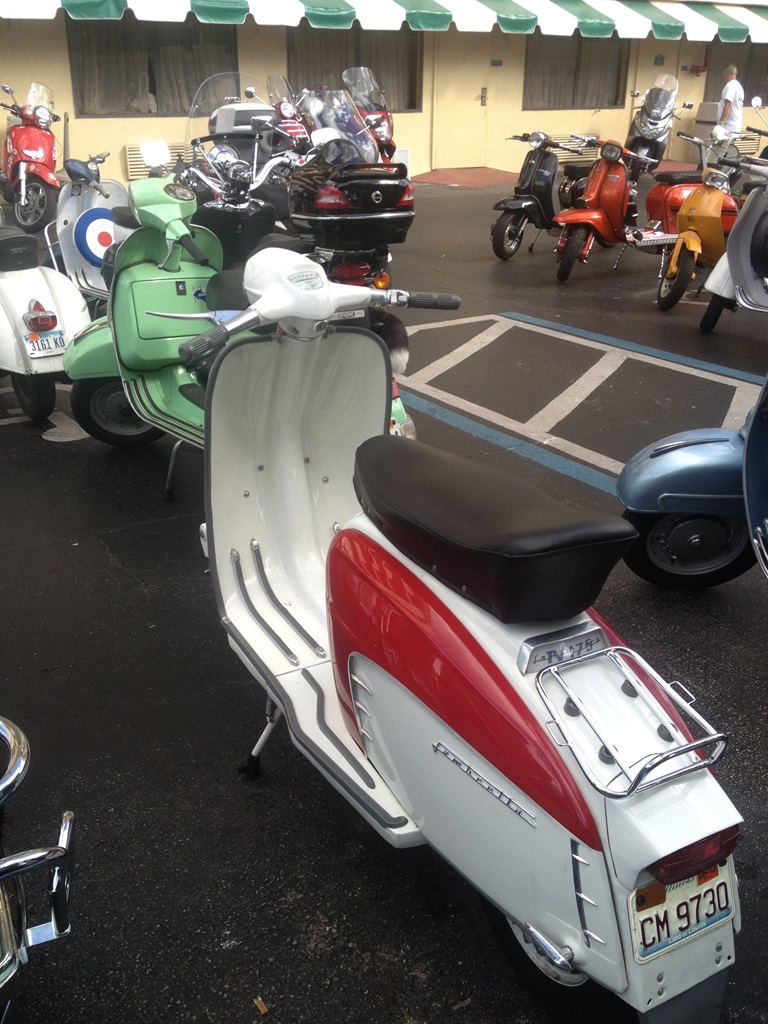 IMG_39.JPG [ 294.12 KiB | Viewed 4600 times ]
There were lots more bikes that cycled in and out as people were going riding. I wish I had been there Friday as well so I could have gotten more pictures. Oh well, I had work. Bleh.
I had to do homework (more bleh), so I went back to the hotel. Maddie was pooped, she was getting lots of attention from lots of folks. She took a nap while I battled the online homework system for my Accounting II class.
Attachment: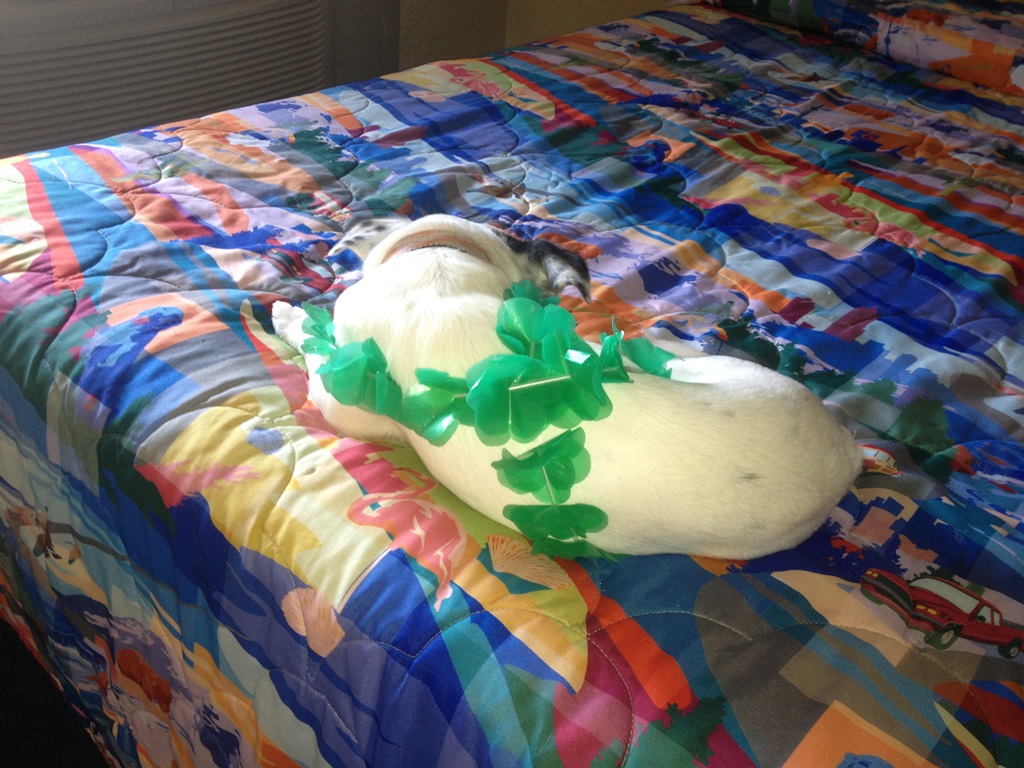 IMG_40.JPG [ 292.76 KiB | Viewed 4600 times ]
After homework was over, it was back to the rally. I talked to more people, and got asked more about the dog. A woman offered to take a pic of me with the pup on our Silverwing, so I figured why not. Here's me and Maddie. She's sitting where she usually rides, on the tunnel bag:
Attachment:
IMG_41.JPG [ 218.8 KiB | Viewed 4600 times ]
Night fell quickly, and it was soon time for the raffle. We sat across from the pool, while everyone hoped for good luck. You can just see the raffle bike directly across the pool:
Attachment: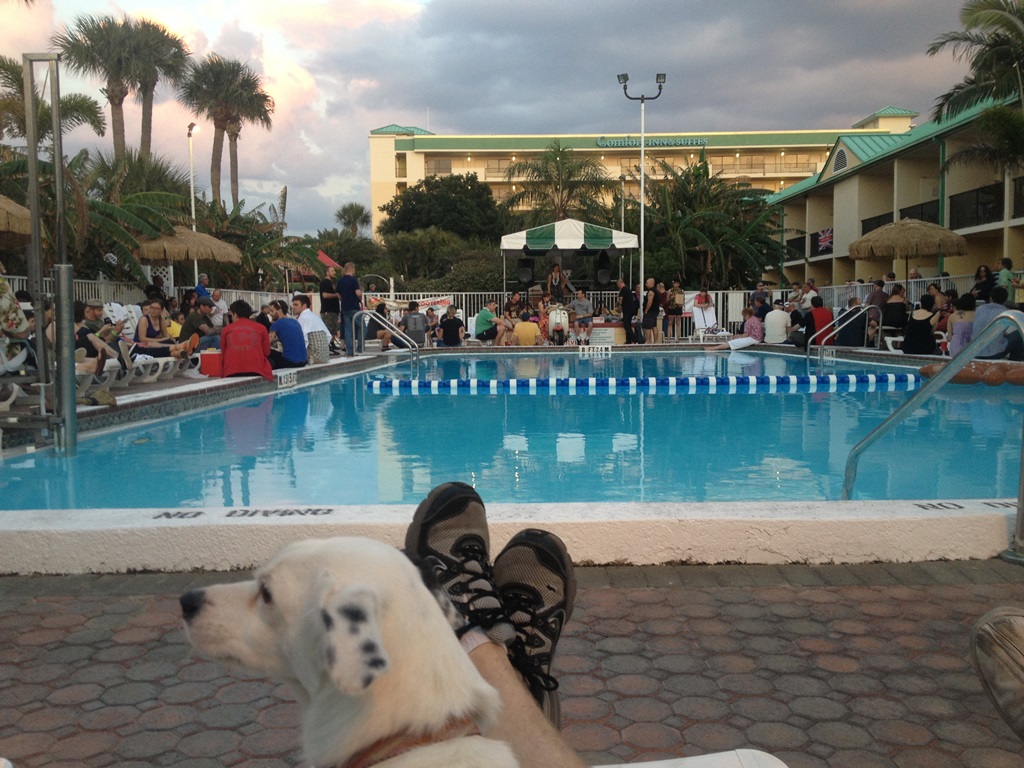 IMG_42.JPG [ 287.71 KiB | Viewed 4600 times ]
Post-raffle, there was drinking and relaxing. I still have no idea where all the local folks were, I hadn't seen hardly anyone I recognized. I'm sure there were lots of Terminals there, and I'm fairly sure I saw a guy with a Monkey Knife Fight shirt too (dudes are crazy, but awesome). I usually roll with the folks from
GASS
since I don't have a Vespa, and the only dude I saw from GASS was Floyd, but even then I was on the phone and hardly had time to say hi.

Anyways, me and Freeman got wasted in the Jacuzzi and tried to explain the concept of a scooter rally to a couple and their 9-year old daughter who were on vacation from Michigan. They thought scooter rally = dumb and dumber:
Really, they're not far off. I wouldn't have it any other way though.
We rode for fun, not for recognition, or to be badass. It's all about the good time.

Once the family went to bed (the wife had WAY too much to drink, it was hilarious), we walked out to the parking lot and started chatting with folks out there. We stayed up late as hell talking to the guy that owned the Big Ruckus that I took the picture of up top, he was a Vietnam Vet and has ridden in FOUR
Scooter Cannonball
runs on that Ruck. Best of luck to you in 2014! We also talked to a nice lady who rode in on a Yamaha Morpheus, she was an avid NRA member and hilarious to talk to.
Well after midnight, we finally went back to the hotel and passed out. We woke up at 8am again the next morning, packed, and were ready to hit the road:
Attachment:
IMG_43.JPG [ 239.94 KiB | Viewed 4600 times ]
On the way out, I got a pic of
roneyeam
's PCX, which I didn't get a chance to earlier.
Attachment:
IMG_44.JPG [ 233.7 KiB | Viewed 4600 times ]
We stopped at Dunkin' Donuts for breakfast, and had a bunch of people talk to me about the dog riding again, one of which (an older couple from Quebec) we kept passing or being passed all the way up through Georgia.
Attachment: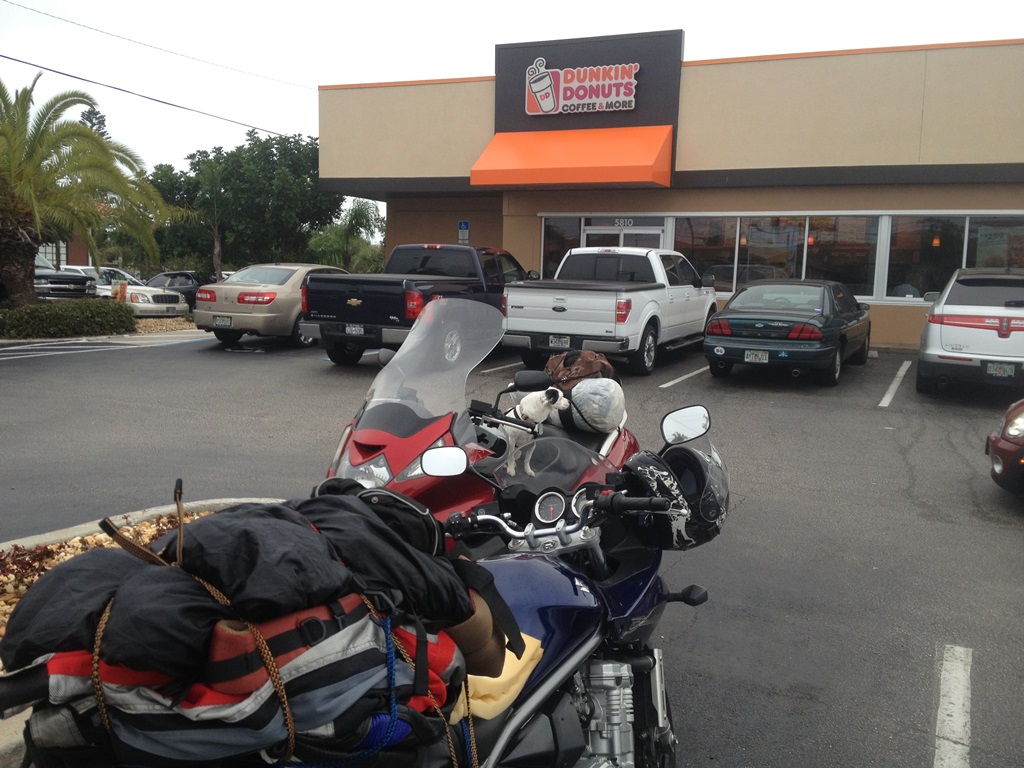 IMG_46.JPG [ 255.31 KiB | Viewed 4600 times ]
One thing about driving around Orlando that pissed me off was all the FUCKING TOLLS. I swear, I probably spent more on damned tolls than on gas. Actually, that's not a probably -- I definitely spent more on tolls than gas. Here's Freeman giving our opinion on the matter:
Attachment: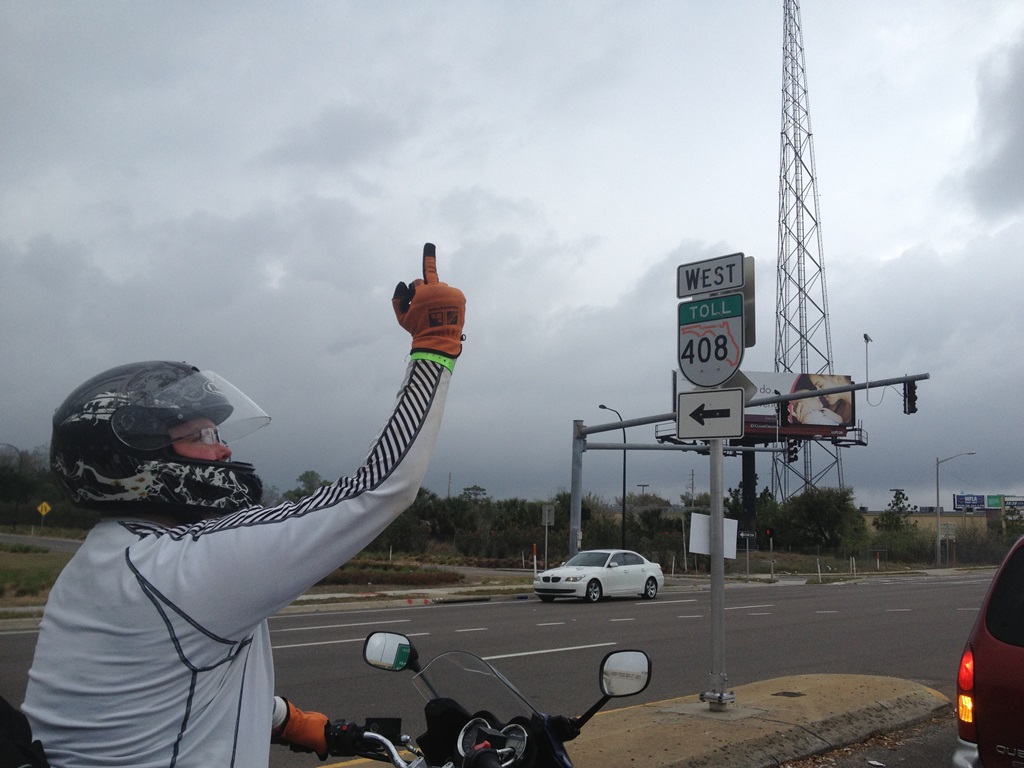 IMG_47.JPG [ 205.56 KiB | Viewed 4600 times ]
And then we hit rain again. DAMN IT!
Attachment: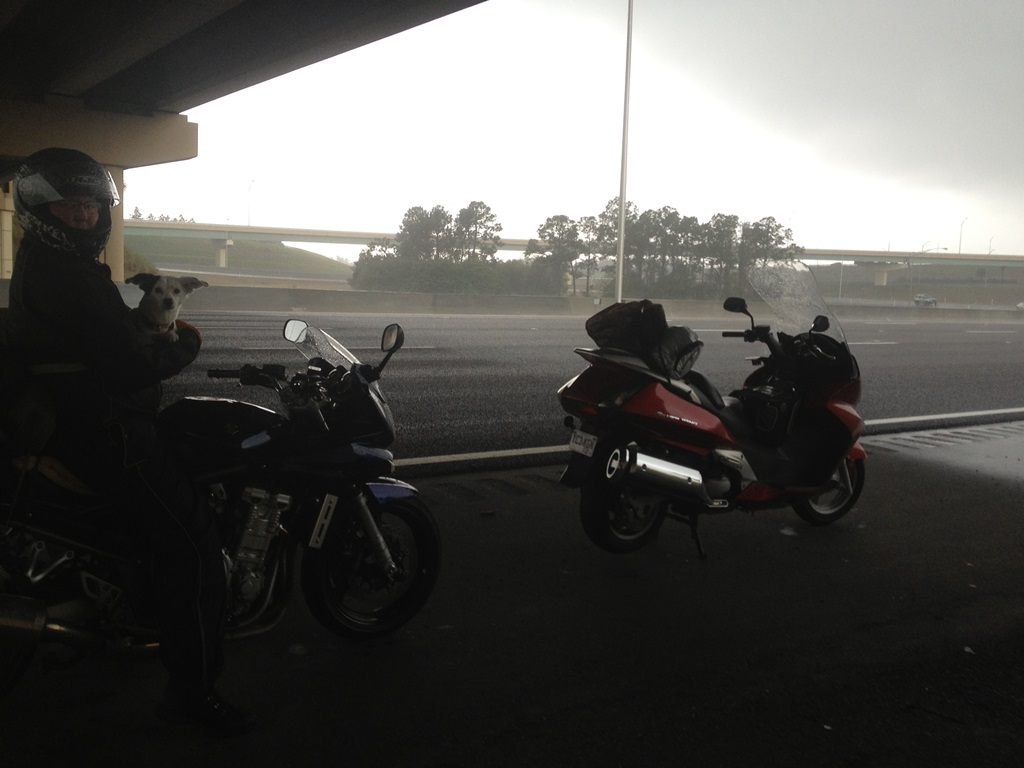 IMG_48.JPG [ 152.65 KiB | Viewed 4600 times ]
But we powered through it, and were clear of the rain and dry again shortly after. We stopped at Cici's for lunch:
Attachment: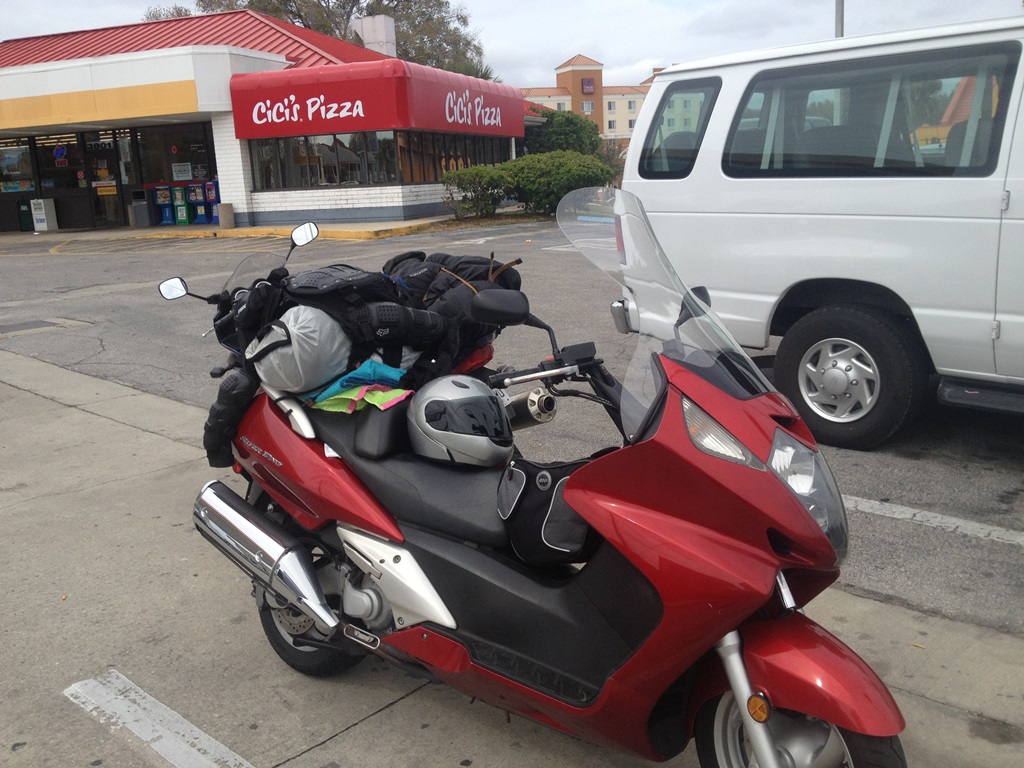 IMG_49.JPG [ 272.97 KiB | Viewed 4600 times ]
Rode out, and gassed up a few more times:
Attachment: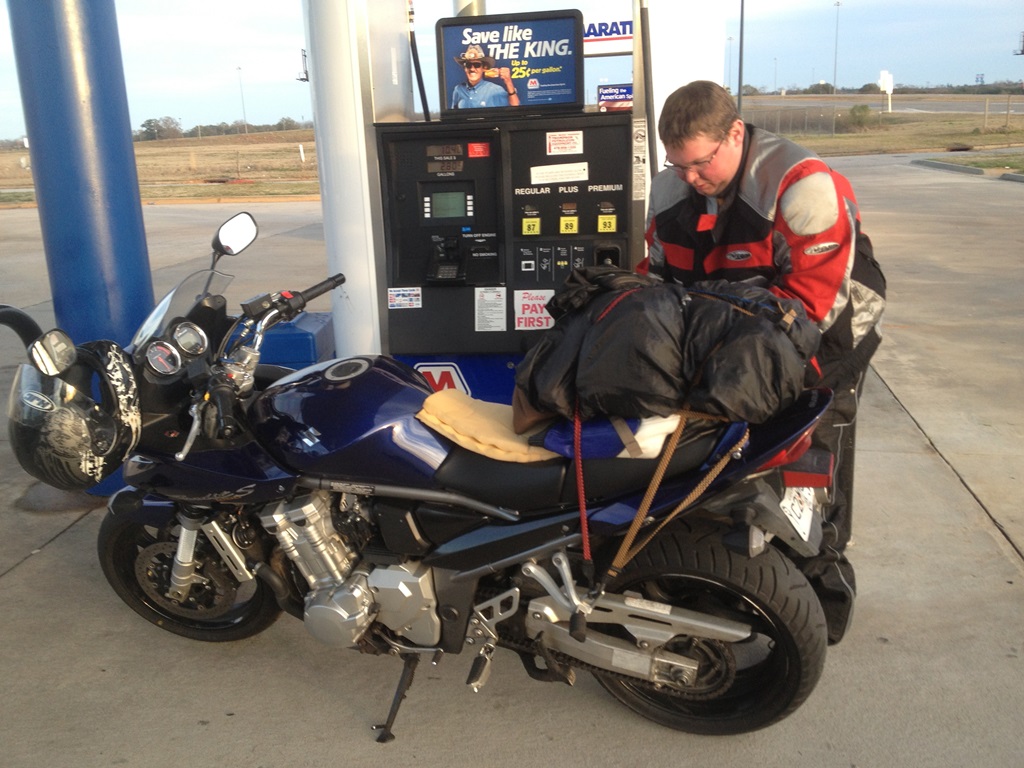 IMG_52.JPG [ 262.04 KiB | Viewed 4600 times ]
And had our last fill-up just in time to ride off into the sunset:
Attachment: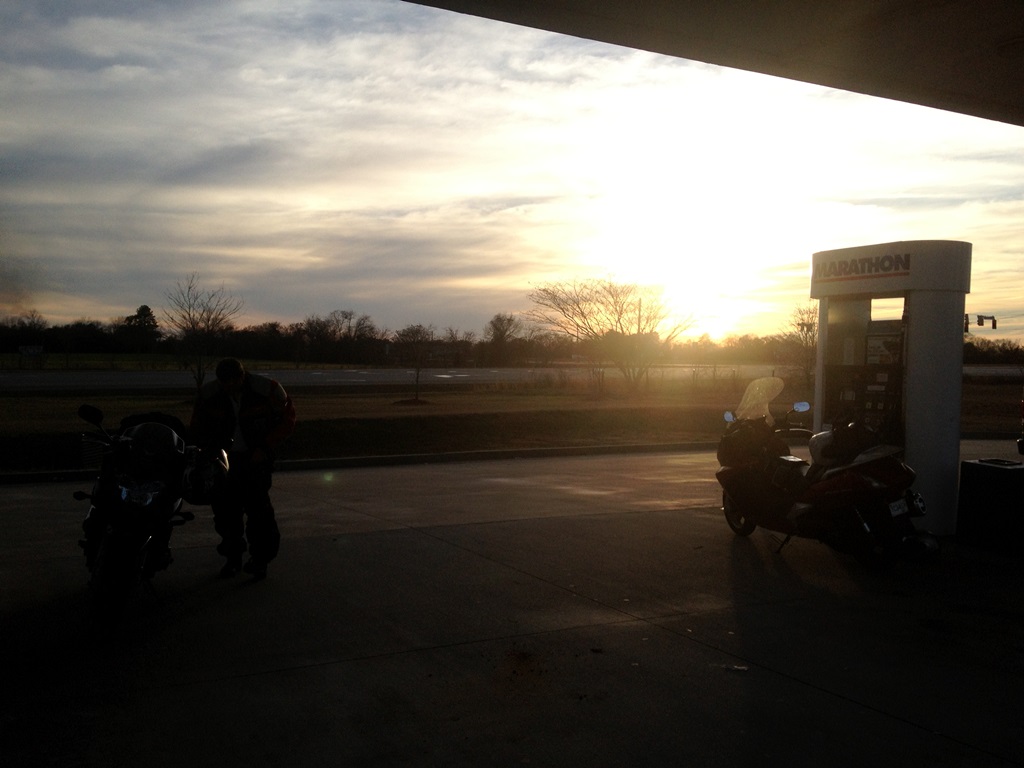 IMG_51.JPG [ 158.63 KiB | Viewed 4600 times ]
I rolled home at about 9pm, just in time to shower, snuggle with my wife

, and get some sleep before work early Monday morning.