How to do an oil change on Honda PCX.
Once again, DISCLAIMER: I am not a professional mechanic. Do not take this as professional advice.
An oil change on the PCX is VERY easy and shouldn't take more than 10-15 min to complete.
Tools and Supplies needed:
1. RAGS.
2. 1 quart of 10w-40 or 10-30 oil. (see owners manual for best oil choice)
3. Oil pan
4. Funnel
5. 8, 12, and 17mm Sockets. Extension of any size will make life easier, but not necessary.
6. New crush washer MIGHT be necessary.
the oil doesn't flow so smoothly from our scooters. when the flow becomes slow, it tends to run down the center stand onto the floor. Position the oil pan like this to get most the oil.
remove oil drain bolt. (12mm) Located on the right side of the scooter next to the center stand hinge just beyond the exhaust pipe
remove 8mm bolt holding rear brake line (left side)
After all oil has drained Remove 17mm bolt/cover holding the oil filter. you will likely have to use your wrench the whole time when loosening since there is a spring holding tension on this bolt/cover.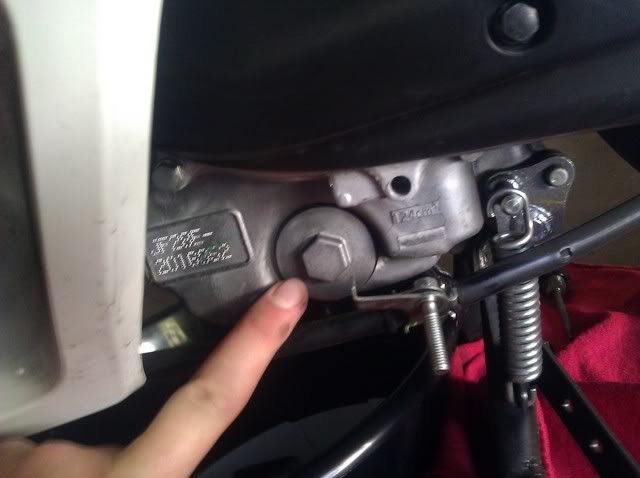 the oil filter will spring out from behind the cover. Remove from engine casing
Clean the oil filter. I used WD-40 to spray the gunk out of the filter. This worked really well. I then rinsed the filter with ample amounts of water to dispose of the WD-40.
Before: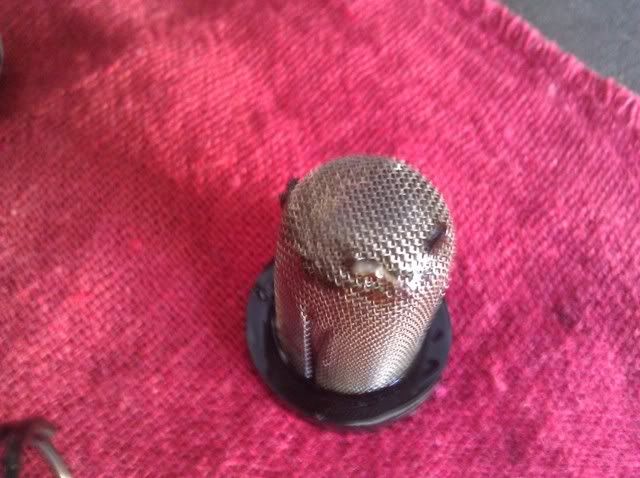 After Cleaning: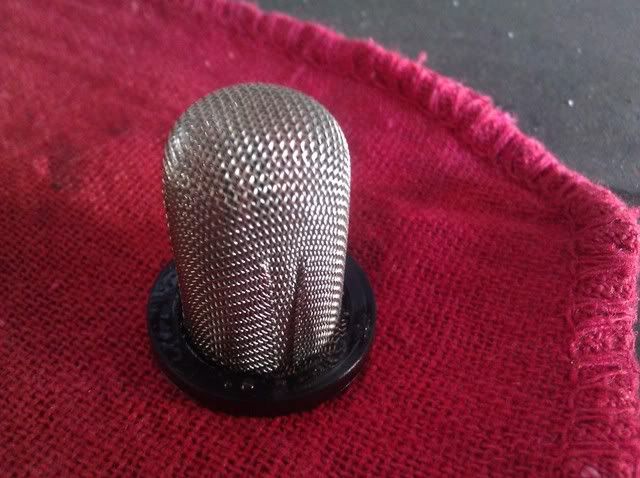 After oil filter is completely dry, place the filter spring and cap, back into the engine casing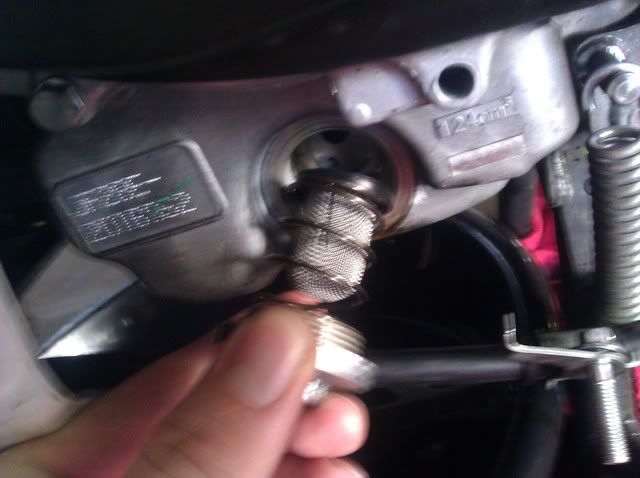 Please remember to re-instal the oil drain plug. I generally replace crush washers every 10 or so oil changes. Some people replace every time. Do what you wish with your scoot.
remove oil dipstick and replace with funnel. Pour oil into the scoot. The scooter will take less than the full quart, but pretty close. Pour about 7/8 or so in, and verify the level with the dipstick periodically while filling. DO NOT screw dipstick into the threads when checking the oil. The proper reading will be found when placing the dipstick on top of the threads.
Replace 8mm brake line bolt, re-check everything, and you're good to go!