No other component on a "scooter" determines it's personality and overall driveability more than the CVT. For those who are completely satisfied by the Forza's stock performance, read no further....there's nothing of interest to follow, but if you would like a faster 0-70 time and a quicker passing gear and are willing to accept a small penalty in fuel mileage, read on.
The Rollers
The total roller weight "governs" the engine, setting and limiting the actual rpm that can be reached during acceleration but there is another feature that is often overlooked....the roller diameter determines your "low" gear. By careful weight selection, you can affect the starting gear ratio, the upshift rpm, the downshift rpm, fuel consumption (both up and down!) and most importantly, your cruise rpm.
An important part of the reasons I bought a Forza was the CVT, more specifically the roller sizes used.....23x18.
This is the same size weights used on the earlier Reflex/Foresight/Big Ruckus MF04E engines and I have acquired a ton of information tuning variators for this weight size over the last 8 years.
What exactlly is meant by 23x18?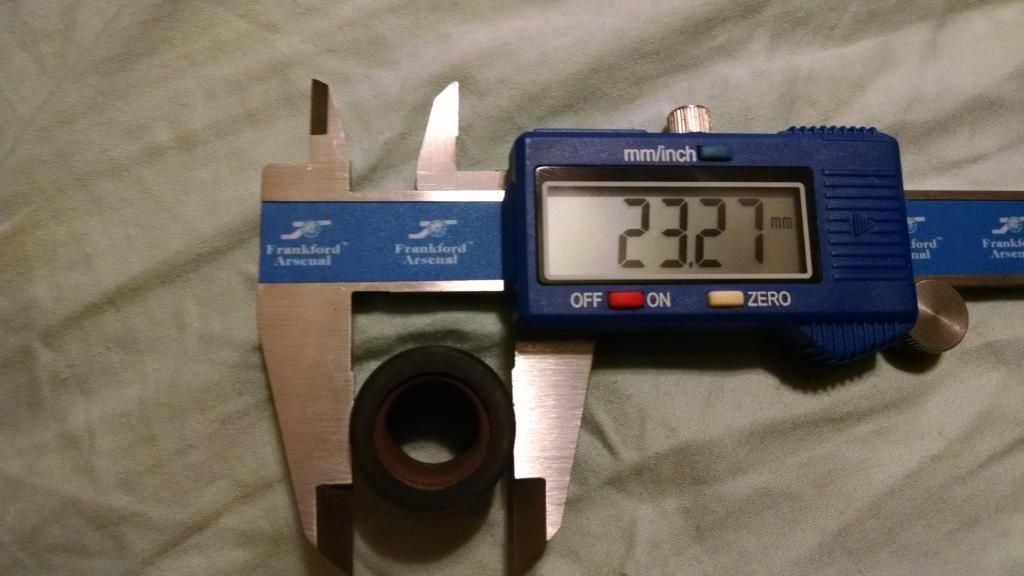 not exact, but close enough.......
The actual diameter of the rollers will vary with manufacturer and design intent.
All 23x18 Honda rollers are very uniform in diameter......
here's a 31 gram Reflex roller
here's a 26 gram Big Ruckus roller
here's a 21 gram Reflex roller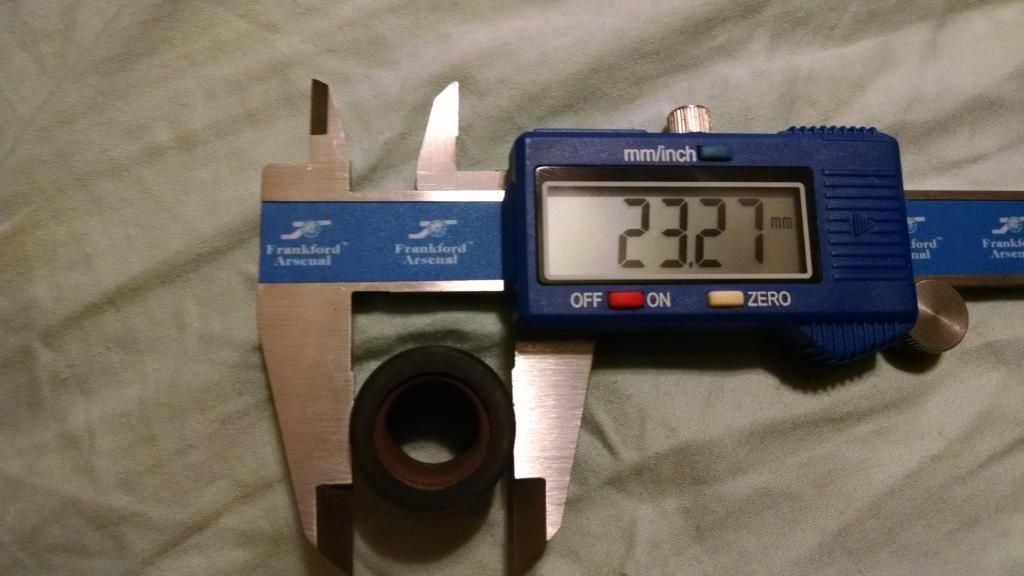 very uniform, all ~ 23.27mm
But the Forza rollers are sourced from another vendor....
they measure from 22.99 - 23.25, which is more variation in diameter than I've seen in the past with Honda rollers.
Aftermarket rollers are usually slightly smaller in diameter.....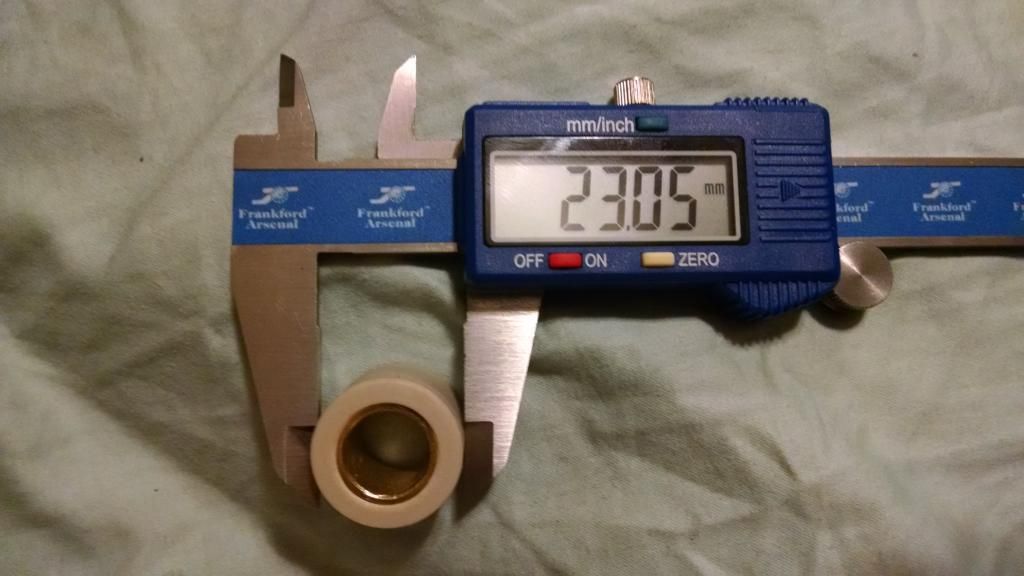 And for the lowest possible starting gear, you have DR Pulley sliding rollers....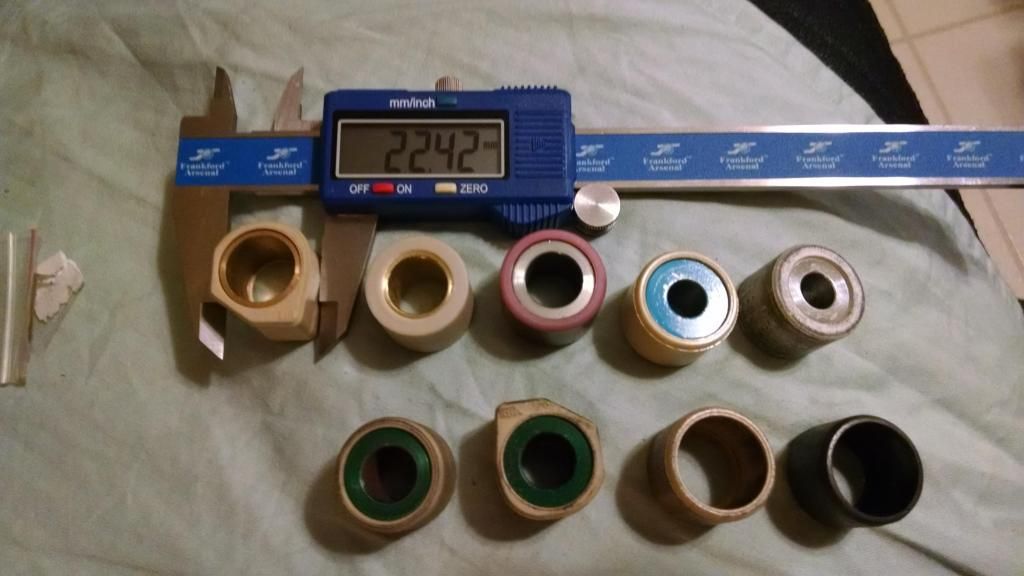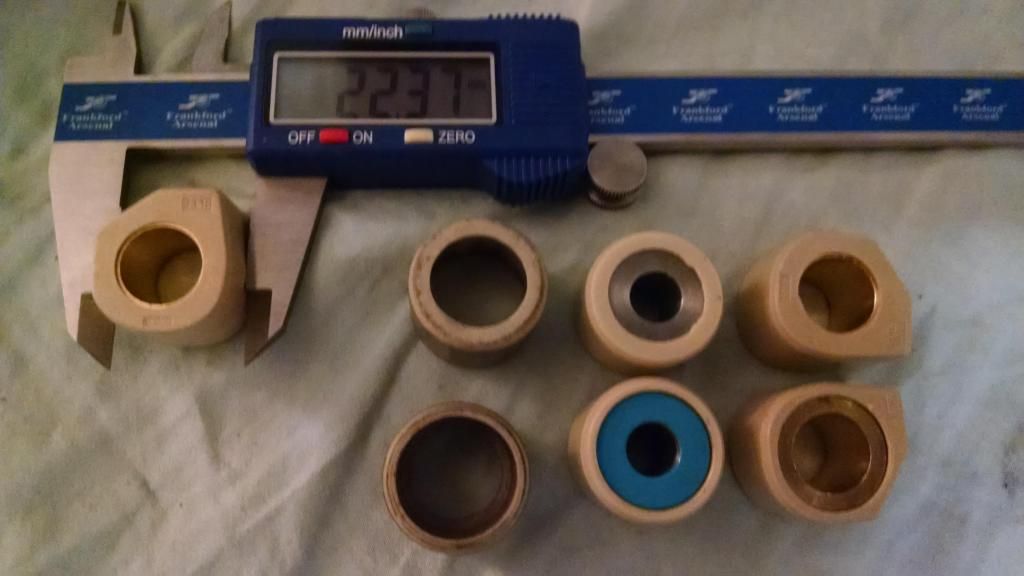 At 22.37mm, sliders start you off in a very low gear.
The pictures above show another feature of sliders and rollers.....
Honda rollers and DR Pulley sliders have "swappable cores".
They will interchange....if you look at the pics, you'll see there is a blind side and an open side to the roller or slider jacket.
Press one core out andd another in.
Most aftermarket rollers do NOT have removable cores.
But this weight range has another surprise, courtesy of the Honda Helix....
The older Helix used a slightly larger roller called 24x18, but it's really 23.80.....
that's 1.5 mm larger than the smallest choice, the DR Pulley sliders.
!.5mm may not sound like much, but remember the entire usable life of your drive belt is ~1mm of wear.
Many aftermarket variators come with tunable bosses....the spacer the variator rides on has been shortened a bit and it comes with 3 shims to let you set your starting gear ratio by selecting the shim.....they 1mm, 1.25mm and 1.5mm, again giving you ~1.5mm of adjustment on the fixed face side, while roller diameter selection gives you 1.5mm on the moving face side.
No other variator that I've worked with has the range of tuning options present in the plain old stock OEM Honda 23x18 variator. Although the Forza's variator is different from the MF04E version, it still uses the same basic design criteria....hold rpms under 6000 until the scoot is moving about 50mph.
Here's an example:
with easy acceleration, revs climb to 5400-5600 rpm and are flat out to ~50, then gradually increase.
with hard acceleration, revs climb to ~6000, then drop back under 5800rpm until 50mph and they gradually climb.
yours probably works the same way....
I call it the 5800 rpm limit or (governed limit) and it is not new....
all of Hondas 250s used the same design parameters.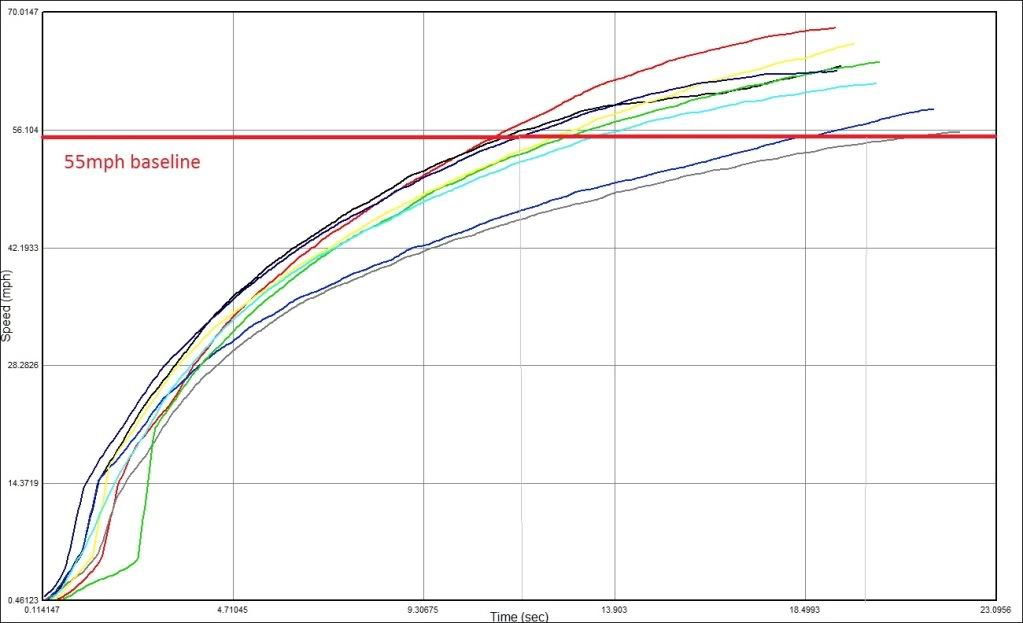 The graphs show that for total weights over 120grams, acceleration revs are held under 5800 (I think that's the case with the Forza, but we see a little needle overshoot).
When I finally get the Veypor harness installed, I suspect the Forza will look very much like this BR running 126gram rollers...
The Veypor harness has arrived but I've decided to wait until I replace the rear tire, since I have to remove the swingarm to install the wheel sensor. The new harrness is more complicated with connections for EGT, ammeter, CHT, voltmeter, tach and speedo.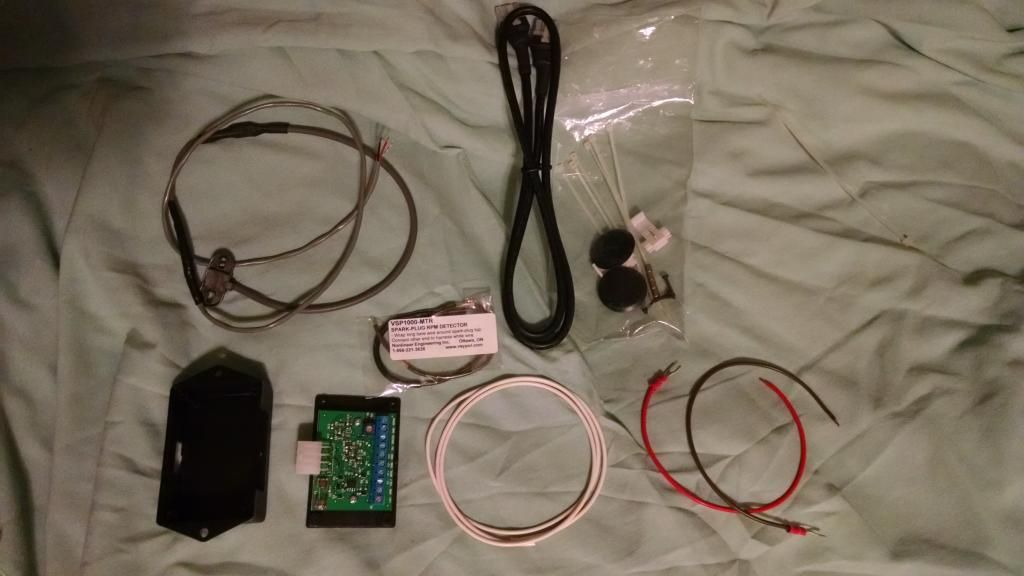 But I have been reducing roller weight in 3 gram steps every 100 miles or so.
This is the setup I'm currently running...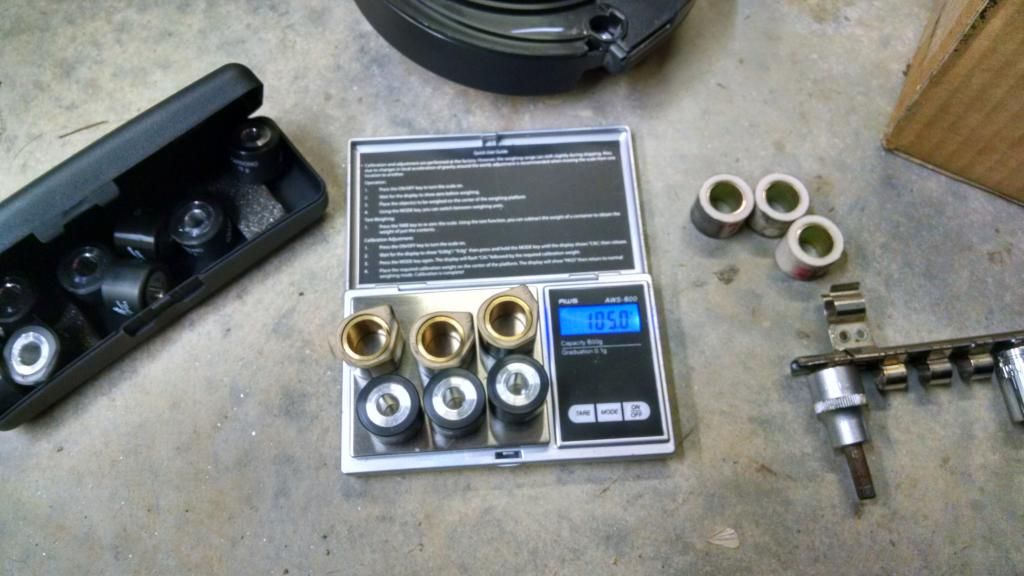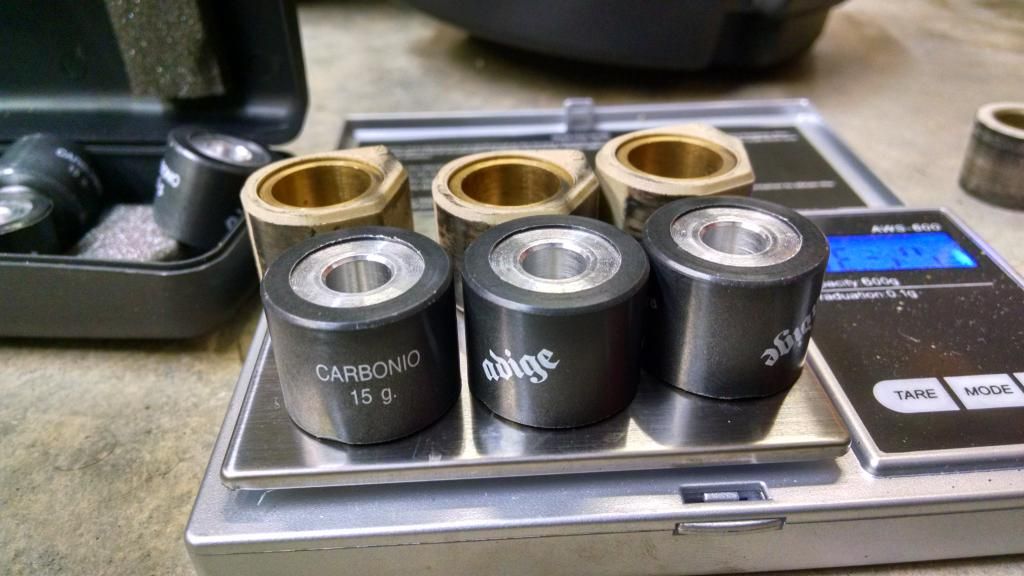 105 grams total weight, 3x20 gram DR Pulley slider and 3x15 gram Adige CarbonFibre rollers.
This combination will do 0-60 in <10 seconds and will accelerate from 55mph to 70mph in < 5 seconds.
To break 6000 rpm during launch, you need to go under 120 grams....
to stay over 6000 during acceleration, you need to go under 110 gram.
Mixing roller weights and types is useful for this sort of tuning.
Mixed weights are less stable and thats a good thing in this situation....
it takes longer for them to move out, giving good acceleration and the lighter rollers release quickly at rolloff, giving a strong forceful downshift.
The 3 heaviest rollers used will set your normal acceleration rpm, while total weight will determine your hard acceleration rpm....
what this means is that if you drive conservatively, you can still get good fuel mileage, even using much lighter rollers.
With 105g, on a long ride I'm getting about 66-67mpg, but here's a picture of a recent test result.....the gas station is exactly 10 miles from my house.
Staying on the speed limit.....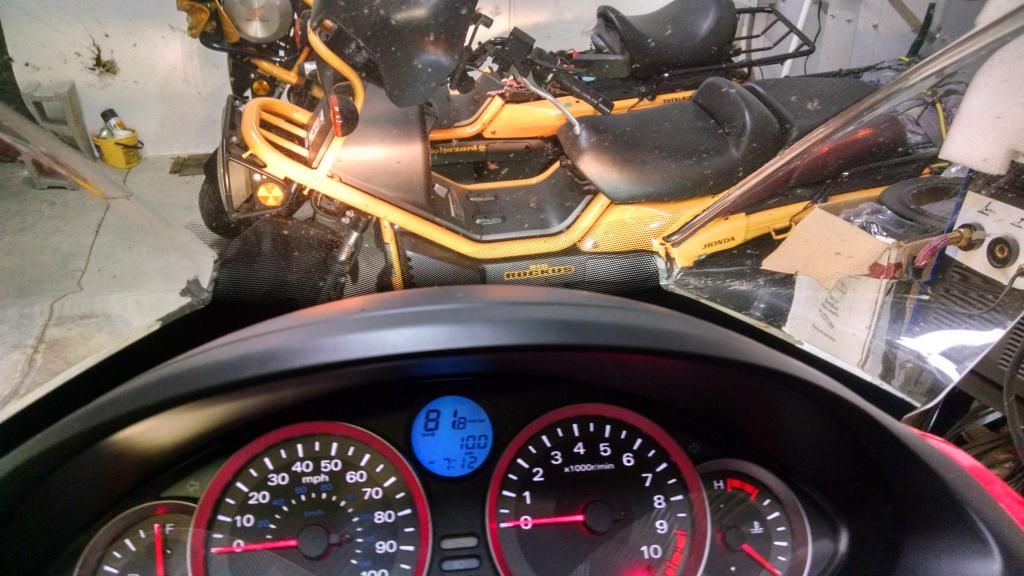 Thats 6 miles of 45 mph, 3.5 miles of 35 mph and 1/2 mile of 25 mph.
More later.