I'm going to guess this includes the huge influx of people that don't live in the city that work here and visit just to get plastered. And I could have it wrong, it could be the County, but since it's Drunk Friday (at work) I'm thinking that it might
also relegate the other
people that happen to injest and consume on a daily basis when they intoxicate....
In Cudahy, for instance, you either live next to a bar, or above one. Which is actually not the city of Milwaukee, but it almost might want to be,
and we really don't care...
Wisconsin's per-capita beer sales for residents 21 and older was 36.2 gallons, each. That's the state. Per person. Which would theoretically include crotchety old women who can't get out of their walker
(actually the rest of us drink enough beer to make up for them)
. We drink so much beer in Milwaukee that no matter where in the world you are, if there's a beer drinking contest and they find out we really are from Milwaukee we get disqualified, because, well, we'll win. In fact, we've been known to demand to keep drinking free beer after the contest is "over," because quite frankly, we're not done drinking.
Attachment: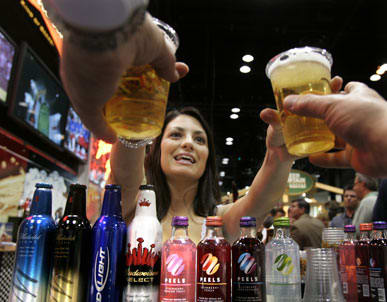 two-fisted.jpg [ 27.34 KiB | Viewed 181 times ]
Two-fisted drinking is common here. Yup, if you have two hands, put a beer in each!
40 Drunkest Cities, From Vegas to Milwaukee
https://www.thedailybeast.com/40-drunkest-cities-from-vegas-to-milwaukee