I've played this game with headlights for the Slingshot, and posted the results many places, hoping to save people time and money. The result is always the same, they spend the time and money to find out it was a waste of time and money.
Here's what you need to know to not waste time and money:
First, let me say I have properly designed DOT certified LED headlights in the truck, properly aimed, and the light is incredible. Expensive units, but awesome.
No unintended glare affecting oncoming traffic
, but get caught in them and....eeech, not good, they're insanely bright. From 1/4 mile back they will over-shine any vehicle in front of me, there's no doubt I'm closing in on someone as the illumination from their headlights will fade into my crisp white halo of existence. Unless it's raining. Then they suck.
LEDs only output a narrow band of light, so anything that absorbs that wavelength won't illuminate and shows up mostly black. Such as something with water on it. So if it rains, everything is black except the freeway signs and other street signs, which are blinding, much as they are all the time, but more so due to everything else being black.
That's the other problem with LEDs, street signs are blinding. Mind you my LEDs are factory installed in Japan, so they're as good as they get, and I'm reminded of that fact constantly.
You need to be firmly aware aftermarket bulbs that don't match OEM bulbs produce light differently, and project differently, which can easily cause glare and unexpectedly blind oncoming traffic. I found this out when one aftermarket HID bulb sat slightly differently than the other and caused insane glare. The illumination was unbelievably better, but the bulb didn't match the mount well enough to be adjusted down as to work properly. I removed the properly mounted bulb, diagnosed the problem, and figured out a different mounting procedure that was more reliable.
LEDs are even harder to work with because instead of a horizontal, thin filament there are two or more rectangular LEDs and light transmission is very different. OEM LED housings are way different than OEM halogen housings, so the halogen housings can't possibly work as well as LED housings when using LED bulbsand there's going to be compromise that requires careful evaluation.
The alignment is critically important, because while you want to see better you also don't want to blind oncoming traffic and cause them to crash, especially not into you. If they do crash and report that it was because you blinded them, it'll probably be you paying for it, and that's YOU,
not your insurance company
. There's this clause about them not covering intended or expected consequences, and it's abundantly clear you intended to illuminate everything in front of you with the modified headlights, and any reasonable person can expect oncoming traffic to be similarly illuminated, so you both intended and expected to flood oncoming traffic with blinding light. It's reasonable to expect you to pay all damages, pain, and suffering out of your own pocket.
The reality is every step of the retrofit should be considered "fail" until proven to work properly. Unless everything works properly (not just "works") the system doesn't "pass," no matter who sold you what. If the installer isn't an expert they should consider having the work inspected by an expert to be sure it's right and works properly and reliably.
In simple terms, the halogen lamp (the bulb) has a metal mount with a flange (a round lip), the top of the flange has a round cutout, the bottom a rectangular, and the fit to the lamp holder (where the bulb is stuck into) is very precise. This is so the filament is positioned exactly correctly, left-right, up-down, at the right depth, and even right-side up. The filament runs left-to-right (horizontal) and emits light along the length of the filament (cylindrically).
Aftermarket HID lamps have a plastic mount with a not-so-precise fit, so there is some slop when mounting. There is no filament, rather a metal-gas that is sparked into conducting, then glows much the way a florescent tube does, although much brighter. The chamber is forward facing (rear-to-front) instead of side-to-side (left-to-right), so it's kind of like an elongated plasma balloon that points forward (somewhat cylindrical, and turned 90° from a halogen filament). The light source is not only a different shape, but the bulb may not be mounted in the exact right position.
Aftermarket LED bulbs generally have two or more Light Emitting Diodes, one set on each side of a post, much different from any OEM LED headlight design. As you can guess, this configuration is a lot different from a round filament, and the location of the LEDs on a "fat" post cannot match the location of the thin filament. The emission pattern is like a lighthouse. Unlike halogen (hot wire filament) and HID (really hot xenon gas), LEDs are electrical components and must be kept cool so they don't burn out, either by a large heatsink and cooling fins (generally requiring unrestricted air flow--ditch the waterproof boot), or a micro fan on the more powerful LED units (no boot and keep it clean & dry so the fan keeps running).
This is all important when one realizes the very tiny size of the fixture compared with old-fashioned (or even new) car headlights. These fixtures are very compact, and the reflector and lens are made very precise to accurately focus the light where you need it without blinding oncoming traffic. Any time the thin filament light source is changed, even the filament orientation, the light path is also changed, and that original, intended path is very defined: most of the light is focused on the road, some to the sides, and just a little is used to light up street signs and provide a broader view, but not so much as to blind oncoming traffic. It's all to provide the driver with the most visibility possible without endangering the driver and others, in many different driving conditions.
Another odd thing is the more yellow the light is the more detail we see, the more blue the light the brighter it looks, but the less detail we see. Tungsten bulbs are around 2700°K (a bit more toward orange), halogen about 3000°K (yellow), and the daylight is about 5000°K. HID light color varies based on voltage, and between 4500° and 5000°K works best, any higher and they move into the blue spectrum and produce less visible light (the narrow band is better or worse absorbed by different things, so appears more crisp due to shadows, but we actually see less overall). Since HID bulbs color-shift between 100-500 hours, what you see initially isn't the end result--they shift to less yellow and more blue, meaning they're more crisp after burn-in. With less expensive HIDs, a 4500°K rating seems best, since they tend to over-rate the ballasts and the lamps burn hotter than expected (cheaper ballasts = higher actual Kelvin than rating = more crisp / less light).
An additional thought is ballasts produce a fair amount of heat and a lot of voltage in a very compact area. A failure resulting in fire may cause a lot of damage in a very short time.
Attachment: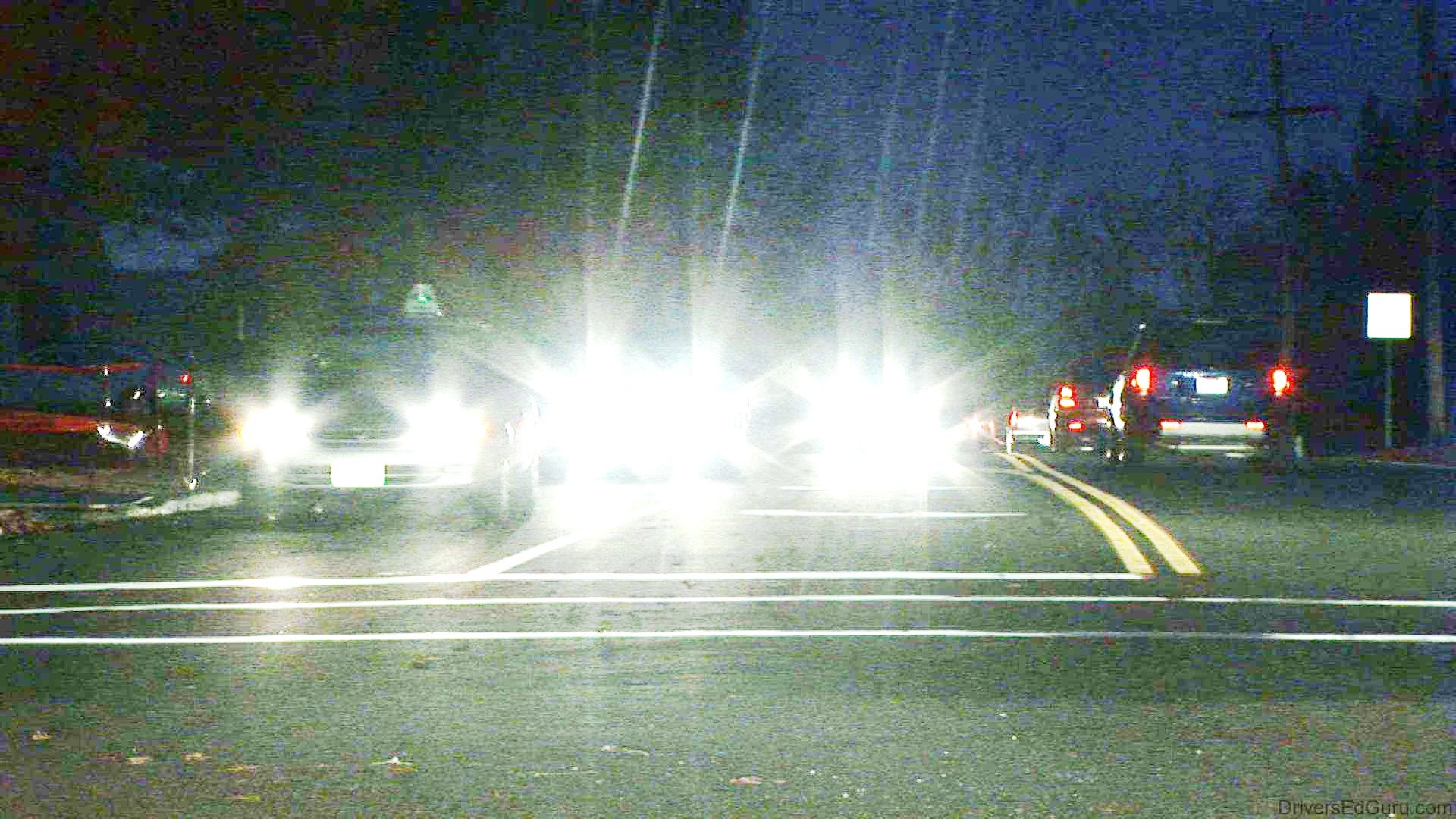 glare.jpg [ 208.84 KiB | Viewed 436 times ]
Example of aftermarket bulbs in OEM lenses not designed for the bulbs.
Left
: Properly adjusted headlights. Note the car is the closest of the three and the headlights should be the brightest.
Center
(farther away),
Right
(even farther away): Properly adjusted headlights for the OEM bulbs, but using aftermarket bulbs without correcting the adjustment for those bulbs.​ Notice how hard it is to tell how far away they are. This is called "glare," when the light blinds oncoming drivers.
Would I go with LED headlights again? Hell no. Aside from the expense, highly reflective road signs blind me and I can't see great in rain, fog, and
winter
, because snow is unbelievably bright. Since deer fur absorbs LED light I can't tell if a super-bright dot is from their eyes reflecting the headlights or one of those round 1" reflectors they put on mailboxes so the plow doesn't hit them and they know which newspapers get delivered. I have LEDs in a few vehicles, and it's always the same results. Halogen are good, but HID are my favorites, bright in all conditions but not blinding to me nor oncoming traffic, and reasonably priced too.