This is a super-common question, and easily answered:
"What oil should I use in my PCX?"
10w30. Synthetic.
The only caveat the manual mentions is to make sure it doesn't say "Energy Conserving."
A how-to is here:
http://www.hondapcx.org/viewtopic.php?f=3&t=25
If you're in a pinch and looking on your phone and don't want to click the link... You need around 800mL of oil, or a quart in freedom units. Drain, refill, and check the level WITHOUT screwing in the dipstick, just push it in and pull it out. You are also ok to use 10w40 oil if you ONLY ride the bike when it is above 0C, or 32F. More on that lower.
Here's the owner's manual page on oil weights:
Attachment: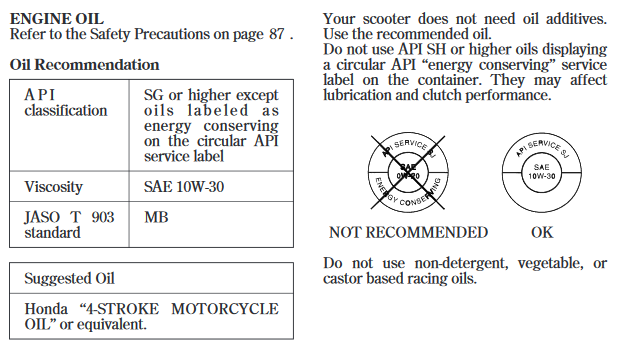 oil-1.png [ 57.4 KiB | Viewed 1149 times ]
"Do I have to use motorcycle-specific oil?"
No.
You do not need motorcycle oil, car oil is fine. Motorcycle oil is specially designed for motorcycles with a wet clutch and transmission. Since the PCX has a CVT with a dry clutch, standard car oil is great! Any name brand -- Castrol, Mobil 1, Peak Oil, Pennzoil, Royal Purple, Shell Rotella, Valvoline, whatever. It's all the same for the most part, and the PCX is an economy scooter that is not picky at all. "Maddiedog, what do you use?" My PCX has Shell RotellaT 5w40 in it now. I used to use Valvoline 10w30. I've also used 0w30.
"Can I use 0w30? 0w40? 5w30? 5w40? 10w30? 10w40?"
Yes
, but no other weights will work. Lower than w30 is too thin and may burn off or provide inadequate lubrication. Higher than w40 is too thick and may bog down the engine or not be properly distributed.
To explain why, I'll explain what oil weight numbers mean. Modern oil has two numbers that make up its "weight." The w between the two stands for "winter," which is fairly irrelevant. Anyways, both numbers are measures of viscosity, or how quickly the oil flows. The first number in an oil's weight indicates how fast it flows before it is warmed up, and the second number indicates how fast it flows when the oil is at operating temperature. The higher the number, the thicker it is, and the more lubrication it provides at operational temperature.
Now, all of this is further complicated by operational temperature. In Thailand, it's hot. In Canada, it's cold. The same 10w30 operating in a PCX in the summer in Thailand will be at a higher operational temperature than the 10w30 in a PCX in Canada in the winter.
The bottom line is, oil gets thinner when it runs hotter, and therefore higher weights are more suitable for hotter climates.
Here's the chart in the owner's manual on oil weights:
Attachment:
oil-2.png [ 6.81 KiB | Viewed 1149 times ]
From here, you may ask why 0w or 5w cold weights are okay. Oil with a lower viscosity when cold flows very easily, and quickly spreads around the engine to heat up. When an engine is stopped, all the oil flows down out of the head (where the valves and camshaft are), and drips off of the lower parts of the cylinders and pistons (cylinder and piston in the case of the single-piston PCX) into the oil pan below the engine. Low weight oil flows over everything quicker on startup, getting all over the components quicker, helping minimize wear on startup.
Can I use SAE30 oil or SAE40 oil?
No, that will cause premature wear
.
SAE30 oil is essentially 30w30. For the same reason 0w30 is actually good, 30w30 is bad. It offers too little protection at cold temperatures, but the same protection at operating temperatures.
Is <brand> better than <brand>?
Usually not
.
If you really want to spend extra on Royal Purple for your economy-grade scooter, go for it! But, it's all really the same. I rambled off some brands earlier, really any of them are great. I might avoid store brands or recycled oil though.
Can you update this FAQ?
yes
! If you are new to scooter maintenance and think something would go well here, PM me or anyone on the mod squad and we'd be glad to discuss your ideas for updates for this space.