I rode my friends 2016 Can Am Spyder ST this past Sunday (7.9.17). I never rode one so it was a first for me.
Attachment: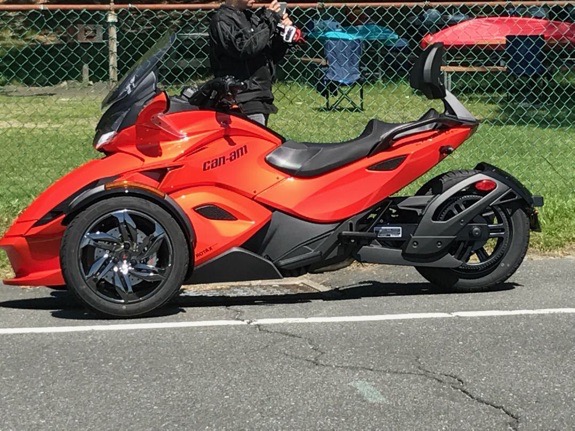 image.jpeg [ 133.16 KiB | Viewed 235 times ]
The trans was left in the automatic mode so I had to Shift up manually using the bar paddle. All downshifting was automatic (the Can Am Trans took over). There are other modes to choose from should you wish to shift both up and down. I believe they call that the Sport mode. First gear was abrupt, it banged/clunked in. Takes a few rides to get use to, I was told. The remainder were fine. It has a reverse button too. There's No clutch, No hand brakes. Just One single (smallish) foot brake pad located on right upper floorboard. I found the footbrake to small and awkward to use. I decided to hover near it and then over it during my ride. Not sure IF that positioning would be a safe habit to get into (muscle memory) for sudden emergencies. Wait a minute though....this bike has ABS and perhaps (?) traction control. You need space to turn this baby around. A typical U-turn felt a chore and it got me in my right shoulder. The bars are wide folks (but after riding a PCX what would one expect
) it stopped very well with two up (me with a pillion) but as I mentioned, that little foot brake pad was tucked in and small. Could it be that my all-day-long numb-ish foot was to blame? Yeah, let's say it didn't help in my braking or review

All lighting is LED. The front seemed sufficient the rear not so much. I was surprised to see rear turn signals sticking out like our earlier PCX models had. They are Not imbedded. The look is odd on such a high tech digi machine. Hmm...
The front underhood trunk space is impressive. Deep and roomy. The battery compartment is under the front hood too. It came with a battery tender pigtail poking out for easy connectivity. A Useful extra. Also under the hood was a port for hooking up a laptop (for servicing?) and another with a temperature symbol on it (servicing?) Whatever, I wasn't much interested in that.
How about the sound peeps?

The sound was just enough for me, not a purr, not a growl...somewhere in between, in the comfort zone. The saddle was roomy and comfortable so was the passenger area. There's an $800.00 backrest optioned in on this bike

that I did feel was needed. I rode back there for awhile as pillion

Comfy and feeling secure and holding onto large rubber passenger rails. Even my Mom would feel safe (uhh, make that 40 years ago)!
The ride itself was odd (no lean), and Shifting was odd (no clutch lever, no left foot shifter). When you shift in the auto mode, you Do Not let off the throttle! You maintain speed and tap the shift paddle into next gear. That was so odd! It took me 20 mins to stop myself from letting off the throttle. Try it people!
Overall I liked it. Would I buy one today? No, not likely. It's big, it takes up a narrow road in a heartbeat and that can get tricky with the width of this bike. Watch yer speed and the shoulder folks! You could run off easily at speed in tight spots. Oh, and let's talk potholes and sunken man hole covers.
We dislike them anywho but.... Picture this: your "steering" a Can Am down the road and spot a pocket ahead. You have no other lane to move into. Whatcha gonna do? If you straddle that upcoming pocket smack between its' 2 front wheels, the rear wheel is going to nail it! Bam! ouch! Puncture?
You must remember at all times that you have a single mounted rear wheel behind you. Why? so that you can avoid any type of obstacle, be it below or above surface on the road. Move the bike a bit to the left or right prior to the obstacle if lane width and oncoming traffic permit. Reasoning is to avoid a Rear Direct hit. Did that all make sense? I learned this years back on my leaning 3-wheel Piaggio MP3. I quickly learned that my friend was unaware when he hit a deep manhole cover with me sitting pillion. Don't ask, I'll tell ya...my back took the blow! It was then that I passed this knowledge onto my friend. With eyes wide, it never crossed his mind.
Wow! Tooo much talk

I'm hitting the submit button right now!!
Warning, I will be back. I submitted before I asked my question and that was the reason for this post. Damn! WN, how does this happen? Blah, blah blah!
_________________
<<< LOCATION! Year & Color Please enter Yours today!
To enter your location and other: Log in. Click the User Control Panel button (top right of this page). Upon arrival, click Profile in left column. See the questions? Please Complete. Tis Simple. We Thank You Much (o;
"Miles From Nowhere, I Guess I'll Take My Time - to Reach There"
Cat Stevens