No offense, I think the iZip price vs. performance isn't there yet. At half the cost of a PCX and nothing near the performance, no rear suspension, and no guarantee on replacement parts being available in 3 years (iZip will probably say to upgrade the bike instead), it doesn't do it for me--it might for you, and fitting your needs is of course the goal.
So far the gas-bike conversions are still in that same price range and less reliable, although replacement parts are easy to come by. They technically require a driver's license in the U.S. so the electric bike has an advantage there.
With all the work on tilting three-wheelers they will be the next huge revolution in the automotive industry. Millenials will find that while Uber and Lyft are great, they want their own freedom [for minimal investment] and transportation smaller and cooler than the SMART will be it.
Earlier this year I contacted Toyota about testing the I Road in the U.S. after their Japan tests were completed, as I have the facilities they required and have other 3-wheelers. Sadly, the U.S. Isn't even a consideration until after the i-Road is in full production in other countries (and turning a good profit). There are too many governmental restrictions to overcome, and their target market doesn't have the infrastructure to support such a vehicle. (In other words, hipsters might invest in the vehicle, but not secure parking, charging, and current maintainance requirements.)
I think @GeorgeSK nailed it though, Peugeot squarely nailed the concept. Even though lithium technology has advanced greatly, it runs best in a limited temperature range, not too hot or cold. (I was running in 20F=-7C yesterday, and while the batteries did well, they had about 1/3 range). The faster you go, the less distance the batteries will take you. With a petrol engine none of that is a concern--take the batteries off-line and go. Going "fast" is also not a problem. And there's heat...a tiny compressor for air-conditioning would be nice too, given the plastic bubble is going to cook the driver when the sun is out--but Peugeot engineers are good about practical things, so they'll most likely have a solution.
It's not just about "being green," because quite frankly, that crap costs more than gas engines. Batteries are expensive and environmentally unfriendly to make and dispose of--plus they don't last long. They cost a lot to purchase, they catch fire and release deadly toxins, have a narrow range of operating and charging temperatures, on and on.
It is about "being cool" [and somewhat practical]. Look at the younger generation--appearance is everything, selfies (posting pictures of yourself online) rule. Peugeot nailed it.
Attachment:
peugeot-01.jpg [ 50.57 KiB | Viewed 174 times ]
Attachment: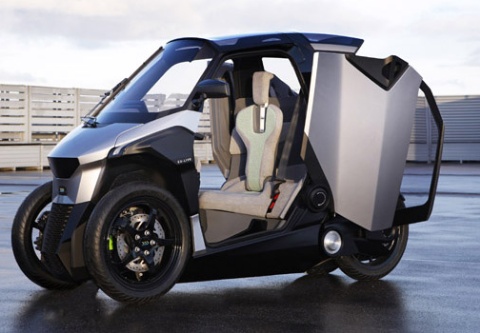 peugeot-02.jpg [ 56.62 KiB | Viewed 174 times ]