So here's something I've been watching for years, the engine-powered unicycle. I love the concept, but think this is a bomb. Here's why:
Segway Personal Trasporter: Neat. Stand on a platform, push a handlebar, go that direction. Stopping gets interesting; on any normal vehicle you hit the brakes and fly forward, bracing yourself against the vehicle. Here you have to lean the other way first.
Ninebot Mini: The evolution of a Segway, smaller, lighter, funner. It goes slightly faster than most people run, so crashing at speed is often a bang-up.
King Song 18S: Damn fast unicycle. Hard to balance on--it is, after all, a unicycle. Call it a mono-wheel to make it sound good, but it has all the same idiosyncrasies of a unicycle. Little wheels are fast, big wheels are stable, crashing puts your face straight into what you didn't want to hit. In China this is awesome transportation, unless it rains (because dirt roads are slippery, you know). In big cities this is awesome because you can roll to a coffee shop, your job, a cafe, and your apartment, then plug in. Unless it's crowded. And unless it's dark-o-clock, it is crowded.
This is where the RYNO mono-wheeled motorcycle comes in--you can drive it in the street. In traffic. With cars that hate you. And have a hot engine under your ass in rush-hour traffic.
The pro is self-balancing, something electric unicycles have perfected over a period of years. The con is you still have to balance, which means thinking in advance of doing what you want to do. Most people are fairly good at saying, "I need to buy groceries to make dinner," but not so good at saying, "I'll need to lean left in two seconds to steer left...right....here!" It's worse when something unexpected happens, like someone moves into your planned path of travel.
The con is a bit more intimidating: Hurling yourself at full speed into something you want to avoid, which is like three times as fast as you could run if you were in shape, or at least a shape other than pear. I can't see me enjoying wrapping myself around the trunk of an old lady's car.
Attachment: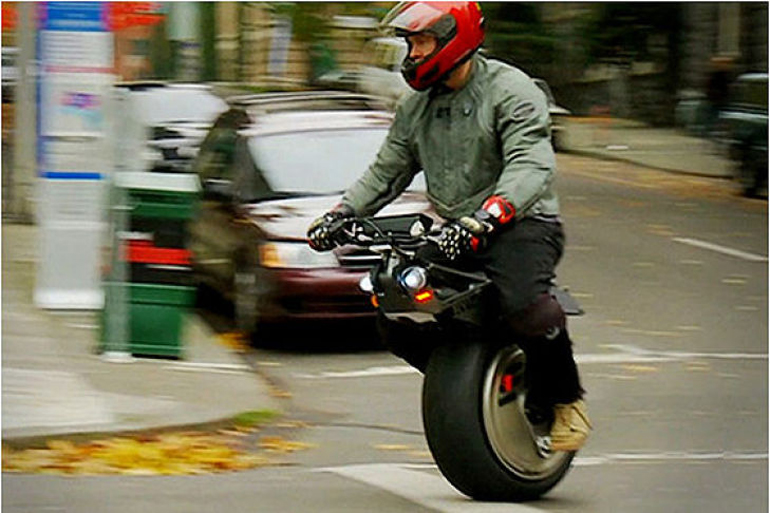 ryno.jpg [ 265.29 KiB | Viewed 226 times ]
http://rynomotors.com/
https://www.facebook.com/RYNO-Motors-209119020419/